New dean for MHM
Mon, 27 Feb 2012 12:02:00 GMT
Historian Martin welcomed to Huddersfield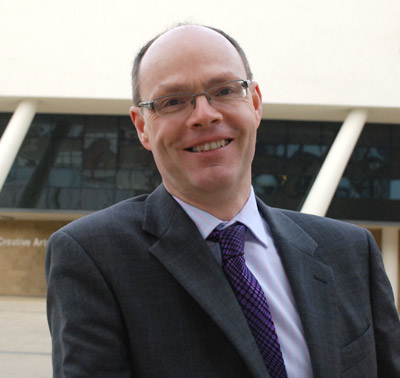 New Dean Professor Martin Hewitt
Following the announcement by Professor Mike Russ, the Dean of Music, Humanities and Media, that he wished to retire in August 2012, the University has been searching for a worthy successor. That successor has today been named as Professor Martin Hewitt who will join the University on 1 September 2012.
Martin is an historian and read his history degree at Oriel College, Oxford. He subsequently completed an MBA at Warwick University and then returned to Oxford, this time to Nuffield College, to complete a DPhil.
Martin is currently the Head of Department of History, Politics and Philosophy at Manchester Metropolitan University and Professor of History. He was the founding editor of the Journal of Victorian Culture (1994-2000), and more recently Associate Editor. From 2000 to 2009 Martin was the Honorary Secretary of the British Association for Victorian Studies. He has served as an editorial consultant for Nineteenth Century Prose and he is currently on the advisory board of the Australasian Victorian Studies Journal, and a member of the Peer Review College of the Arts and Humanities Research Council. Martin is also on the Advisory Board of History Lab Plus.
Martin's peers have described him as an 'agenda setting' scholar and his current projects include a general survey of the Victorian period, a large edited volume on The Victorian World (Routledge, 2011), work on the culture of the diary in nineteenth century Britain, and a resource website on nineteenth century Manchester.
"I am delighted that Martin is joining us here at Huddersfield," said the University's Vice-Chancellor, Professor Bob Cryan. "He will be leading an extremely successful group of staff, both in research and in undergraduate recruitment, and I know he will be a valued member of the Huddersfield team."