New Creative Arts Building gets Royal seal of approval
Fri, 13 Sep 2013 12:26:00 BST
New Creative Arts Building gets Royal seal of approval when The Duke of Kent visits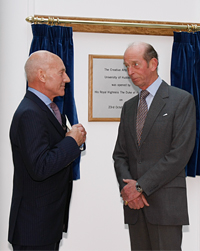 His Royal Highness The Duke of Kent is pictured with the University's Chancellor Professor Sir Patrick Stewart at the opening of the Creative Arts Building
The University's new £16 million state-of-the-art Creative Arts Building was officially opened today, Thursday 23 October 2008, by His Royal Highness The Duke of Kent.
Work on the visually impressive new building, partly constructed from local sandstone from Crosland Moor, began in 2006 and will be home to the University's music and design faculties.
The building will see 600 students pass through its doors each day, and is the latest in the University's ambitious £150 million new build programme which has seen £80 million invested over the past ten years and plans for a further £70 million over the next seven.
The centrepiece is an eye-catching, cube-shaped acoustic lab, which is the first of its kind in England. Musicians will be able to experiment with three-dimensional sound spatialisation diffusing sound above, below and all around them using what is the ultimate in surround sound systems. The lab uses the latest digital loudspeaker systems.
The Duke toured the new building, accompanied by the University's Chancellor, Professor Patrick Stewart OBE, and Vice-Chancellor, Professor Bob Cryan, and unveiled a commemorative plaque to officially declare the building open.
Professor Cryan said: "We are delighted to welcome His Royal Highness The Duke of Kent to the University of Huddersfield to officially open this spectacular building. This is a special day for the University and provides a very visual illustration of our commitment and ambition to develop the University as a centre of excellence and continue to attract students from all over the world supported by innovative, cutting-edge facilities."
The building was designed to minimise environmental impact and maximise sustainability. Natural sustainable materials have been used throughout, including cedar boarding with timber from certified sources. A 44,000-litre tank stores rainwater collected from the roof which is used for toilet flushing. Six wind turbines have been installed on top of the building in addition to solar panels and photovoltaic panels to tap into renewable energy sources.
Her Majesty The Queen laid the foundation stone for the building in May 2007.
Click here to view the other Royal visits to the University of Huddersfield.