Magical mysteries of visiting prof
Tue, 23 Oct 2012 15:04:00 BST
New Visiting Professor seals Uni's role as a world-leader for the serious study of performance magic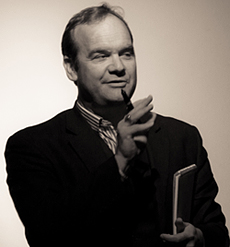 THE University of Huddersfield – a key centre for research into the art of magic and illusion – has appointed the world's first Visiting Professor of Performance Magic. But his students will not be taught to pull rabbits from top hats or to saw their glamorous assistants in half.
US-born Dr Todd Landman, who combines a career as a magician and mentalist with a post as a professor of government, delves deeply into the history and heritage of magic and believes that it enables the world to be viewed with a fresh sense of wonder.
"We are trying to rescue magic from its worst faults – which is cheesy guys in cheesy ties with rabbits in hats!" he says. "We are interested in the deeper side of things."
He has a special fascination for renaissance men such as Dr John Dee and Sir Isaac Newton – scientists, astronomers and mathematicians who also practised astrology and alchemy. And today, the study of magic allows for "different ways of knowing the world", according to Dr Landman.
"Even some neuro-scientists are saying we can't explain everything with neuro-science. There are some things, like consciousness, that can't be explained and that is the contribution we can make."
Seasoned performer
But Dr Landman is a seasoned performer as well as a philosopher-researcher and his new appointment at the University of Huddersfield is the result of his established links with its drama department, where senior lecturer Nik Taylor's research and teaching portfolio includes performance magic. The University's Drama Division is also home to a newly-formed Magic Research Group, which aims to be the leading forum for state-of-the-art of scholarship in the field (http://magicresearchgroup.org/).
Pictured with Todd Landman below is Senior Technician David Wainwright (left) and Senior Lecturer Nik Taylor (right)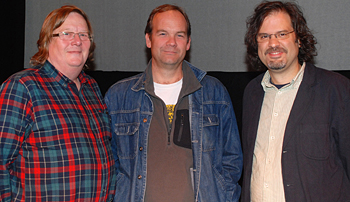 ‌Says Nik Taylor: "Despite the perennial reports of its demise at the hands of both old and new media, magic is a performance art with a vibrant culture of live work, popular TV shows, and emerging forms. The time is ripe for a serious modern study of modern magic."
Todd Landman marked his appointment as Visiting Professor by holding a workshop for drama students in which he explored three dimensions of the magician's art – half an hour of close up magic, followed by a mentalism session in which he gave an illusion of mind-reading powers, closing with a "mystical set" in which he delved into the realm of the "collective unconscious".
After this session with drama students, Dr Landman teamed up with the magician Paul Voodini for a public performance named Edge Of The Unknown. Taking place at the University's Milton Theatre Studio, it was billed as "an evening of magic, mystery and the esoteric".
The two performers took on roles – as an American rationalist and as a British spiritualist – and the show was framed around the enigma of Sir Arthur Conan Doyle, who created the ultra-rationalist Sherlock Holmes but was also an advocate of spiritualism and even asserted his belief in fairies.
The interest in magic came first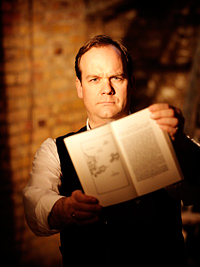 There is an enigma, too, over Todd Landman. In addition to his activities in the realm of magic and performance, he is also Professor of Government and Director of the Institute for Democracy and Conflict Resolution at the University of Essex.
The interest in magic came first – as a child in Pennsylvania – with the study of politics beginning at university. For most of his academic career he has kept the two dimensions of his life separate but more recently he has explored intersections between illusion and politics, such as the use of rhetoric and the exploration of free will.
"I kept two worlds completely separate for over 20 years, but then I started bringing them together and realised it was fruitful intellectually," said Dr Landman.
However, his new appointment at the University of Huddersfield is the sole academic outlet for his magic skills and the post is unique in the UK, and maybe the world.
"This is very progressive and exciting thing for Huddersfield to do," says Dr Landman.
But the intention is not to create a whole new generation of magicians among University of Huddersfield drama students.
"There might be a few who follow me into the field, but that is not my goal. My aim is to open their minds to a whole world of performance that's out there."