Lord Winston's lecture 'Playing God'
Mon, 13 May 2013 15:21:00 BST
Lord Winston delivers the Harold Wilson Lecture and calls for ethical issues to form part of the teaching on all university courses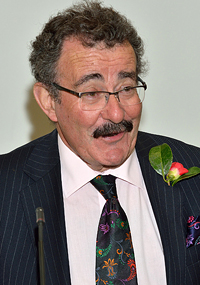 SCIENTISTS who refuse to acknowledge mankind's spiritual dimension are mistaken and they are damaging science, argued Lord Robert Winston (pictured) when he delivered the tenth annual Harold Wilson Lecture at the University of Huddersfield.
Speaking to a packed audience in the University's Diamond Jubilee Lecture Theatre, Lord Winston – renowned for his research in the field of human fertility and the presenter of award-winning TV science documentaries – mounted a sustained criticism of assertively atheist scientists, such as Professor Richard Dawkins, whose books include The God Delusion.
"When Richard Dawkins says that religion is evil, we must remember how cohesive religion has been," said Lord Winston, who is Professor of Science and Society and Emeritus Professor of Fertility Studies at Imperial College in London. "Religion can be used wrongly, but it has been a potent force in our humanity."
It was wrong to allege that problems in the Middle East were solely the result of religious belief. "That is a shocking claim to make, and highly objectionable," added Lord Winston.
There was no certainty in science, and Richard Dawkins was wrong to state that the theory of evolution was a fact. Professor Dawkins, continued Lord Winston, had failed to make a proper study of the meaning of biblical texts describing The Creation. No Jew really believed that the world was literally created in six days.
"If Richard Dawkins had bothered to read the texts, he would have realised that it was a very complex issue."
Science and religion were at their most dangerous when there was most certainty on either side, argued Lord Winston.
Playing God
Lord Winston's lecture was entitled Playing God and it ranged widely over the history and culture of mankind, drawing on ancient cave paintings, renaissance art, the discoveries of Galileo, African anthropology, Hebrew texts, the music of Beethoven and some of the latest scientific discoveries, such as the human genome.
Pictured at the event [l-r] Vice-Chancellor Professor Bob Cryan, Lord Robert Winston, Professor Robin Wilson and The Right Reverend Stephen Platten, the Bishop of Wakefield.
He described the cultivation in his own laboratories of an embryonic cell that could be transplanted into a human being. Such developments led to ethical dilemmas.
"The need for scientists NOT to have a godlike attitude becomes very important," said Lord Winston.
However, genetic manipulation could be used to save lives. "And that seems to me be an ethical imperative," he added.
See Lord Winston speak on the subject of conflict and religion in the video below.
Lord Winston said that the field of ethics was important point of contact between religion and science and he said that it was vital that ethical issues formed part of the teaching on all university courses.
The annual Harold Wilson Lecture – in honour of the Huddersfield-born Prime Minister – is arranged by the University of Huddersfield in conjunction with the Diocese of Wakefield. After responding to a wide range of questions, Lord Winston was thanked by the Bishop of Wakefield, The Right Reverend Stephen Platten, who explored some of the themes in the lecture.
Lord Winston was introduced by the Vice-Chancellor of the University of Huddersfield, Professor Bob Cryan, and a special guest was Lord Wilson's son, Professor Robin Wilson. The ex-Prime Minister's widow, Lady Mary Wilson, now aged 97, was unable to attend – as she has in recent years – but passed on her best wishes.