Lord Hattersley in Huddersfield
Wed, 22 Feb 2012 09:37:00 GMT
Public Lecture - Thursday 8 March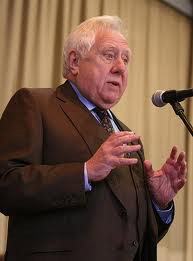 ROY Hattersley, a political big-hitter from Yorkshire who played key roles in Labour Governments during the 1960s and 70s and went on to become deputy leader of the party, comes to the University of Huddersfield in March. He will talk about his career and political beliefs and field questions from the audience.
Sheffield-born, Roy Hattersley first became an MP in 1964 and held Government posts under the PMs Harold Wilson and Jim Callaghan. In 1983 he became deputy to Labour leader Neil Kinnock. It was a "dream team" that Labour supporters hoped would unseat Mrs Thatcher, but Roy Hattersley left the Commons in 1997 and received a peerage. He voiced criticisms of Tony Blair's New Labour.
In the 2010 Labour Leadership contest he plumped for Ed Miliband, rather than his brother David, a decision he had defended recently in a lively press debate with David Miliband on Labour's social democratic principles and purposes.
In addition to his political career, Lord Hattersley is a prolific author, historian, biographer and journalist. His publications include 'The Edwardians', 'Borrowed Time: The Story of Britain Between the Wars', a childhood memoir, 'A Yorkshire Boyhood', widely regarded as a classic, plus the highly praised 'Fifty Years On', a history of the events that shaped modern Britain. His latest book is 'The Great Outsider', a biography of David Lloyd George.
Lord Hattersley visits the University of Huddersfield on Thursday 8 March for an event billed as 'An Evening of History and Politics'. It is organised by the Academy for British and Irish Studies, based at the University, alongside the West Yorkshire Branch of the Historical Association.
The event, chaired by leading labour historian Professor John Shepherd, begins at 7pm, after a reception and book signing at 6.30pm. It takes place in the University's Canalside West Lecture Theatre.