Life saving laughter
Fri, 22 Jun 2012 11:09:00 BST
Pharmacist Mahendra Patel, Comedian Tommy Cooper and the British Heart Foundation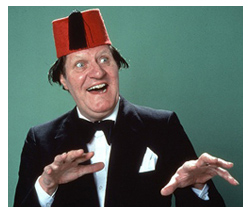 LEGENDARY funnyman Tommy Cooper is at the heart of a major health education promotion, aimed at encouraging people to keep taking their medicines. And University of Huddersfield pharmacy lecturer Dr Mahendra Patel is playing a key role in what could be a life saving campaign.
It was in 1984 that Tommy Cooper – widely regarded as the funniest British comedian of all time – suffered a fatal heart attack on stage during a live TV show. Now, almost 30 years later – and with the full backing of Tommy's family – the British Heart Foundation has launched a campaign headlined 'Taking your meds ain't no laughing matter'.
The website features clips of classic Tommy Cooper routines interspersed with health education messages. There are links to further information, including a helpline number.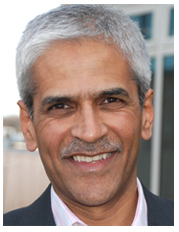 Dr Patel – a senior lecturer at the University of Huddersfield and a Fellow of the National Institute of Clinical Excellence – is the British Heart Foundation's pharmacy spokesman. He features on its website answering frequently asked questions about medication.
"The BHF is inundated with calls relating to medication," says Dr Patel. "They get nearly 1,000 a month. So we thought we would do this campaign because 124, 000 people suffer from heart attacks every year and 80,000 die of heart disease. It is the single biggest killer in this country."
A key to reducing these figures is to ensure that people with potential heart problems follow the advice of their doctor and pharmacist and continue to take medication designed to tackle problems that could be fatal.
"One in three people with high cholesterol and one in four our people with high blood pressure fail to take their medicines properly," says Dr Patel. In financial terms medicines waste alone can cost the NHS £300 million a year.
There are various reasons for people not taking their medicines as prescribed either in part or in full.
"Taking medication on a regular basis can be difficult," says Dr Patel. "People might be living busy lives and doing irregular shifts and forget to take their medicines. Or there might be side effects. And some people might have trouble seeing how their medication benefits them."
Conditions such as high blood pressure and cholesterol do not have any obvious symptoms, says Dr Patel. "They are sometimes called the silent killers," he adds.
The BHP advises people on how to take their medicines more efficiently, with tips such as establishing and seeking information from their pharmacist or GP on the best time to take their medication.
"Also, people should stay aware of the risks that could lead to heart disease by using self-measuring blood pressure kits and having their cholesterol levels checked. Pharmacists are often offering these services," says Dr Patel.
He is hoping that the BHP's Tommy Cooper campaign will help to get the message over.
"He was such a popular man and everybody knew him. He was very funny but while he was brilliant at entertaining the nation he didn't do too well at looking after himself."
One of the contributors to the BHP website is Tommy's daughter Vicky Cooper.
"When it comes to health I'm pleased to say I'm the complete opposite of my father," she writes. "I don't drink, I gave up smoking years ago and I eat healthily. And while my dad never made time to see his doctor and self-medicated with all sorts of drops up his nose or in his ears or by taking random tablets he'd picked up at the chemist, I'll see my GP if I think something's wrong."