Jim Al-Khalili attends Huddersfield TEDx
Mon, 22 Oct 2012 12:49:00 BST
BBC presenter welcomed to first TEDx event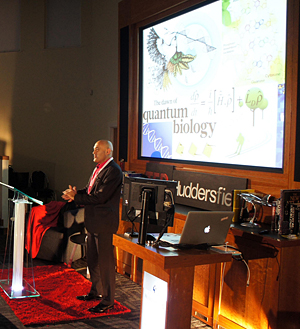 The University saw a sell-out evening of discussion and debate take place at the institution's first-ever TEDx event held recently.
TEDx Huddersfield, held in the University's splendid new £2.6million Researcher Hub, featured a wide range of topics from the world of technology, art, society, science and more.
Attending the event was the renowned British scientist author and broadcaster, Professor Jim Al-Khalili OBE (pictured right), known for his show on BBC Radio 4 called ʻThe Life Scientific'.
TED started in California, USA, in 1984 as a conference bringing together people interested in ʻIdeas Worth Spreading'. Independent TEDx events featuring 18 minute talks by inspirational speakers now take place in venues across the world.
The first session began with Mary Clear on a small town's efforts to create a kinder and more sustainable future, followed by Aaron Huslage on floods, earthquakes and tsunamis. The University's own Professor Bob Cywinski, finished off the initial part of the evening with his discussion on the potential role of thorium becoming the new, alternative nuclear fuel.
The final part of TEDx Huddersfield saw Emma Wimpenny and Gill Turner talking about the subject of children and twitter, Professor Tony Ryan on Project Sunshine; how science can use the Sun to fuel and feed the world and Stuart Nolan on deceit in sport.
Jim Al-Khalili completed the evening with his talk on Quantum life and how physics can revolutionise biology (see more on Jim Al-Khalili's presentation in this video).
The non-profit event, mainly organised by entrepreneur Ian Pringle, an Alumnus of the University, was completely reliant upon charitable effort for it to become a success.
Among the volunteers offering their services were Inteleme Technology Limited, Quickfoot Media, Carbon Imagineering and of course the University of Huddersfield for venue, logistics and organisation.
See photos from TEDx Huddersfield by clicking here.