January completion for Learning and Leisure Centre
Fri, 13 Sep 2013 15:15:00 BST
£22.5 million project to be ready before schedule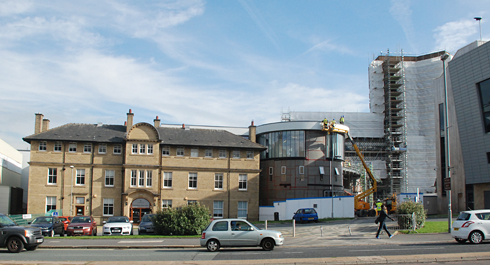 A BIG Christmas push by construction workers will mean a surprise New Year present for thousands of students and staff at the University of Huddersfield.
The University's new £22.5 million Learning and Leisure Centre (LLC) was due to completed by late April, but progress on the scheme has been so good that the goal now is to finish and fit out the building in time for the start of term in mid-January.
This means that returning students will be greeted by state-of-the-art sport, leisure, catering and social facilities, housed in a dramatic, aluminium-clad building. Work on the site, adjacent to Wakefield Road, began at the start of 2013, and under contractors GB Building Solutions, with its regional HQ in Wakefield, progress has been rapid.
"Originally we said we would open the new Learning and Leisure Centre at Easter. But because the project has gone so well I thought we might as well go for it and work to complete the building over the Christmas holiday period," said Colin Blair, the University's Director of Estates and Facilities.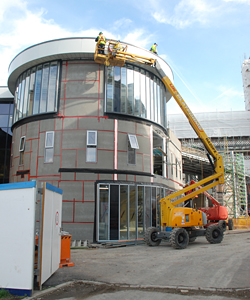 He praised the flexibility of GB Building Solutions – which had earlier worked with the University on the development of the £12 million 3M Buckley Innovation Centre – and also the University's own in-house project management team.
The ahead-of-schedule completion of the LLC means that the University's existing sports hall, which overlooks the Aspley roundabout, will be decommissioned at the close of the present term and will be demolished by April. The site will be landscaped while future development possibilities are discussed.
The new Learning and Leisure Centre is clad in stone-coloured anodised aluminium. It will contain a new eight-court sports hall, an 80-space fitness suite, squash courts and dance studios. The Students' Union will be rehoused in new facilities and students and staff will have a choice of four new food outlets and a larger shop. The top floor of the new building will have space for conferences and meetings.
The entrance to the University's Central Service Building is to be remodelled, with key services, including careers advice, more immediately accessible.