Insight Palestina
Wed, 13 Jun 2012 14:56:00 BST
The Israeli-Palestinian Struggle – "Images, Discourses, and the image of Discourse"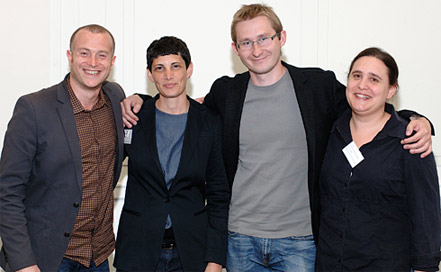 Pictured with Gil Pasternak are (l-r) Yael Bartana, Sławomir Sierakowski and Lior Libman.
The work of Yael Bartana, the Israeli artist chosen to represent Poland at the 2011 Venice Biennale, was shown at a recent one-day conference, Insight Palestina.
The conference was co-organised by the University's Gil Pasternak, photography course leader in the School of Art, Design and Architecture, and Lior Libman, who is based at the Hebrew University of Jerusalem.
Bartana's video trilogy And Europe Will Be Stunned,first shown in the Polish Pavillion at the 54th Venice Biennale, presented the current visual and textual responses to the circumstances of the Israel-Palestine struggle explored in the conference.
After the video screening, Bartana and her collaborator Sławomir Sierakowski, leader of Krytyka Polityczna (Political Critique) a movement of left-wing intellectuals, artists and activists based in Poland, answered questions about the theme of the video trilogy 'The Jewish Renaissance Movement in Poland', which is an actual political project to return to Poland the 3.3 million Jews murdered or exiled by the Nazi regime.
Delegates received presentations from distinguished international keynote speakers, Sander Gillman, Griselda Pollock and Ihab Saloul, whose paper introduced to most of the audience to Tawfik Saleh's The Dupes, one of the first films to deal with Palestinian's 'national imaginary of exile'.
Other contributors presented subjects ranging from the role of the Kibbutz in Zionist-Socialist narrative of nation buildingto filmmaker Jean-Luc Godard's reflections on the Israeli-Palestinian conflict.
Gil Pasternak's own analysis of Dutch photographer Rineke Dijkstra's Israel Portraits reflected his research interests as a photographer and academic.
That most of the audience remained at the conference until 8.30pm in lively debate about the complex issues raised during a full day, which began at 9.30am, is an indication of the timeliness of its theme and the quality of the artistic and academic presentations.