INDEX: exhibition
Wed, 26 Sep 2012 14:49:00 BST
Danish Ambassador visits INDEX: Design to Improve Life Exhibition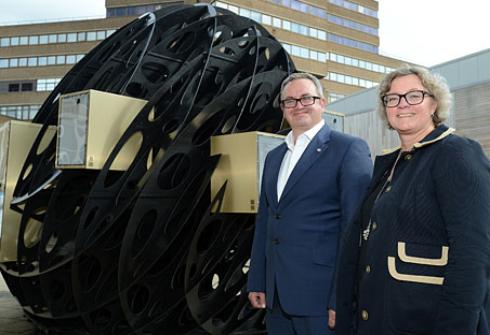 Viewing the exhibition above Dr David Swann [left] and Danish Ambassador Anne Hedenstead Steffenson
A HUDDERSFIELD lecturer's design and innovative flair has resulted in a globally-renowned enterprise exhibition, which travels the world, coming to Britain for the first time ever.
The exhibition, called INDEX: Design to Improve Life and created in Denmark, features the novel design of a nursing bag for the 21st century created by design lecturer Dr David Swann.
The innovative display, which is currently based on the University's campus, was visited last week by the Danish Ambassador, Anne Hedenstead Steffenson, and the CEO of INDEX:, Kigge Hvid (featured left in the video), who came to congratulate the Huddersfield academic.
The exhibition, which features 60 innovations from inventors and designers across the world, has already travelled to Singapore, Germany and Luxembourg and from Huddersfield it will journey to Hong Kong.
David Swann attended the INDEX: Award 2011 ceremony in Copenhagen as one of the finalists and was able to hold discussions with the organisers that led to the University of Huddersfield being added to the itinerary for the travelling exhibition.
21st century nursing bag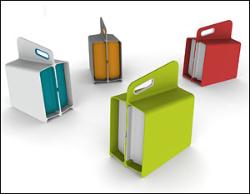 Dr David Swann's 21st century nursing bag (pictured right) replaces the existing 'Gladstone bag' has prevailed for 150 years, but his research for a new nursing bag revealed that one third of a sample of traditional Gladstone bags used by community nurses contained the MRSA bug and 55 per cent were never cleaned.
Only six per cent were cleaned just once a week, despite diary analysis suggesting these bags are often used almost 20 times a day – usually for treating wounds.
Dr Swann said: "We clearly showed the traditional bag used throughout the world is unsafe. It's an unfortunate case of 21st-century professionals using 19th-century kit."
His radical update is made of non-permeable white plastic and is free from the pockets and folds that previously allowed harmful bacteria to accumulate.
It has easy-to-clean drawers and a hard surface that can be turned into a hygienic treatment area (as seen below), sparing medics from having to work off tables, chairs or even floors.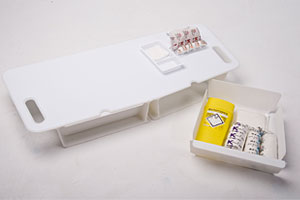 Dr Swann, whose design will be commercially produced next year, said: "Taking part in the INDEX: exhibition has really helped the process of disseminating the bag to a global audience.
"It's obvious the university shares the same values as INDEX and recognises the power of design to deliver social and economic change for people and communities."
Other exhibits at Huddersfield will include the Swedish-designed Hövding, described as the world's first airbag for cyclists. The airbag explodes from a custom-made collar whose inbuilt sensors constantly monitor movement for the telltale signs that an accident is about to happen.
Also on display will be a glow-in-the-dark chador – the dress worn by Iranian women – designed to save unseen female pedestrians in Iran from being hit by cars at night.