In all weathers...
Thu, 10 Nov 2011 13:55:00 GMT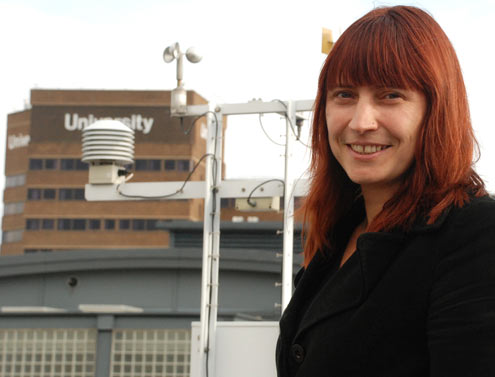 Julie Walker and the University of Huddersfield's weather station
SEATED in front of her computer at the University of Huddersfield, Julie Walker can almost instantly summon up minute details of the district's weather as it rained, blew or shone at any given moment since 1990.
That was the year in which the University first installed a weather station – measuring temperature, rainfall and wind speed – on the roof of its West Building, at the heart of the Queensgate Campus. The equipment has been upgraded on two occasions since – the present equipment (below right) has been in service since 2005 – and recent improvements mean Julie can download and archive all the data she needs from her desktop.
"Now I can sit here and talk to the weather station from my computer, whereas I used to have to go up on the roof of the West Building in all weathers!" she says.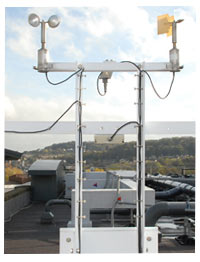 The weather station was originally installed for the benefit of geography students. But now its data is proving to be of much wider relevance. Amateur meteorologists often contact Julie for information, but so do solicitors, insurance companies and the police, who have asked for weather data to help them out with murder investigations.
"Say an insurance company wants to know how much rainfall we had between six and eight at night on any given date, I can find that data," says Julie. In fact, she can narrow her search down to any ten-minute period over the past two decades.
Julie, originally from Wiltshire, studied human ecology at the University of Huddersfield and after graduation took on what was originally a temporary job as a geography technician. That is how she became involved with the weather station, even though her main role now is to offer help and advice to students in the Resource Centre of the School of Applied Sciences.
Because weather data is in demand, Julie is currently working to spread awareness of what the University of Huddersfield has to offer and a list of charges has been drawn up, varying according to the nature of the enquiry. In all cases, the charges are considerably lower than those levied by the Met Office, whose nearest recording station is in Bradford.
The goal is to boost the revenue earned by the University weather station, so that sufficient funds can be raised to upgrade the equipment when it nears the end of its life. After all, it is exposed to everything that the Huddersfield weather can throw at it...