Hudds takes two awards at New Designers Show
Tue, 09 Jul 2013 16:50:00 BST
Interior Design students and course praised by judges

Two University of Huddersfield Interior Design students have been awarded prestigious industry awards at this years New Designers show.
Presented over two weeks, New Designers is the UK's most important graduate design exhibition with over 3,000 of the most talented, newly-graduated designers from the leading universities in the country.
Both Huddersfield students are graduating this year from the BA(Hons) Interior Design programme.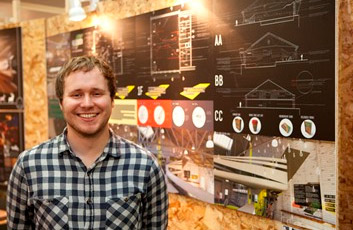 The first award, sponsored by IHG (International Hotels Group), was presented to Kyle Tetley (pictured right), for his innovative exploration of a future retail store.
The judges commended Kyle's project as a "thoughtful and well-executed scheme that shows good narrative development and a beautiful visualisation of his ideas. Kyle displays a wide range of creative skills and is able to communicate his ideas with superb clarity".
Along with his award, a work placement with IHG and a luxury weekend in a Park Lane hotel, Kyle, along with another Interior Design student, Izzy Eling, were also shortlisted at the show for the Future Pioneers award by the Design Council. The Huddersfield pair were in select company with only 20 candidates shortlisted from over 1,400 exhibiting students.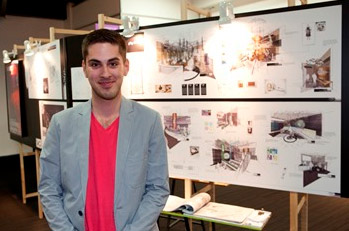 The University's second award winner was Aaron Vure (pictured left) who won the New Designers IDA Panaz Award for his scheme that explored the relationship between food, music and event experiences in his innovative restaurant project, entitled Signature.
Aaron has received much attention from a number of design practices, and along with his prize of a paid placement, he has also been offered a six-month internship in Geneva among other employment opportunities.
His project impressed the judges showing "wonderful breadth and depth in the design and in its documentation" and he was praised for being "commercially aware and showing excellent presentation skills".
The judges were highly impressed with the overall quality of the University's Interior Design programme, commended it for the quality of the course and its students.
The awards come on the back of another successful year for the Interior Design course, with two students, Naomi Robinson and Paul Bateman, in Year Two, receiving Best in Year awards, and Effie Yeoman nominated for a coveted yellow pencil in the D&AD (Design and Art Direction) Student Awards with Jennifer Leach (final-year) shortlisted in the Janine Stone Competition.
"We're really excited by the successes this year," said Interior Design tutor Paul Blindell. "They are testimony to the creativity and hard-work from the staff team and students alike, and we look forward to an even more successful course next year."
The work of the award winners and the range of work from Interior Design programme will be exhibiting with Interior Educators at the Free-Range Exhibition in Truman Brewery in London from Friday 12th to Monday 15th July.