Huddersfield's Latin quarter
Tue, 15 Nov 2011 15:10:00 GMT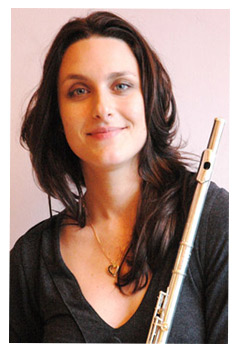 LATIN American music – from the tango to the salsa - is celebrated for its sensuality and spontaneity. But now a music researcher at the University of Huddersfield has set the scene for greater worldwide understanding of the nuances and cultural significance of music that has been little studied in Europe and the West.
Jessica Quiñones (pictured) – born in New Mexico, USA – is a professional flautist and teacher now based in Britain and Ireland. When she decided to turn a passion for the music of Argentina's leading composer into the basis for her PhD degree, she was attracted by the reputation of the University of Huddersfield for music research.
She enrolled in 2009 and is supervised by lecturer and composer Dr Philip Thomas. Her research has included a three-month stay in Buenos Aires, absorbing the culture and music of the tango. And as she entered the final phase of her studies, Jessica decided that it was time to go global.
She organised an innovative Caribbean and Latin American Music Study Day which attracted funding from the Royal Musical Association and drew 35 scholars and performers, some of whom gave their presentations in Spanish. In addition, there were contributions via Skype from overseas experts in the USA and France ... plus a tango specialist in Japan.
"The range of contributions made it a truly international day, which gave us a lot of different perspectives," said Jessica. "For example someone, from Japan studying tango will have a very different perspective than mine, an American based in England.
"What was also really nice is that most of the delegates there were 'hispanophones', so that there was a nice mixture of Portuguese, Spanish and Portuñol mixed into the discourse, which seemed only appropriate given the topic."
Dr Henry Stobart from Royal Holloway University of London ended the day with a lecture on his recent field work in Bolivian music. Other contributors included Frank Cudjoe on the musics of the Caribbean island of Carriacou; Fiorella Montero Díaz on Andean fusion stars with white appeal; and Sara McGuinness, who described a Cuban and Congolese music fusion project in London.
Organiser Jessica Quiñones began her musical life as a flautist steeped in the Western European classical tradition. She went on to acquire music degrees in the USA and at the Royal Scottish Academy of Music and Drama. It was about ten years ago that she first encountered the music of the legendary Argentine tango composer Ástor Piazzolla.
"It was so improvisatory, so spontaneous, with really powerful melodies and unlike anything I had ever heard.
"My father is Puerto Rican, so I have this Latin blood in me. I think that is something else that drew me to this genre."
Now she concentrates on the tango and adapting her playing style on the standard Western flute so that it suits the flamboyant, sensual music that emerged from the rough and ready quarters of Buenos Aires. Her published articles include "Tango like a Tanguero: Five little tips to help a classical flute player perform tango music".
"A lot of Latin American music comes from an aural tradition," said Jessica. "It is passed down from musician to musician. So one of the main questions I ask in my research is that if you are an outsider playing this music, how can you make it sound authentic?"
It was while she was living in York and working as a musician and teacher that Jessica hatched her PhD plans and decided on the University of Huddersfield.
"And I really love it. They have lots of new approaches and have been more supportive than I could ever have imagined," said Jessica, who currently dwells in Co Wicklow, Ireland, where her husband's business is becoming established. When she has completed her PhD Jessica will continue her field work in Buenos Aires, so that the flute finds its voice in the music of tango.
Jessica's website is http://www.jqflute.com/index.html.