Huddersfield entrepreneur returns
Tue, 13 Nov 2012 10:24:00 GMT
Huddersfield graduate Kavita Oberoi announces her next TV appearance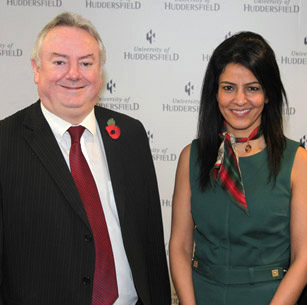 Kavita Oberoi is pictured with the Vice-Chancellor, Professor Bob Cryan on her recent visit to the University
SHE is established as one of Britain's leading entrepreneurs, with a personality and motivational skills that mean her diary is filled with an increasing number of conference and TV appearances. Soon to come is an intriguing variant on the Dragons' Den concept.
But Kavita Oberoi's career trajectory can be traced to her chemistry degree at the University of Huddersfield. She earned First Class honours and her studies gave her the scientific expertise and computer skills that are important elements in her success. It also ensured that she made her early mark in the UK's innovative pharmaceutical industry.
Born in Bradford, Kavita's talent for sales and entrepreneurialism were in evidence from an early age. She also had ambitions for a medical career, but opted to study applied chemistry at the University of Huddersfield, not only for the content of the course, but for the fact that it included a year's work placement.
She underwent hers at the giant ICI plant in Huddersfield. And after graduation she landed a job with Bayer Pharmaceuticals, as part of a new sales team based in Bradford. Following her degree course, it proved to be another excellent education.
"Pharmaceutical companies are probably the best in the world in terms of training," said Kavita, during a recent return visit to the University of Huddersfield. "The amount of personal development they put in, including negotiation and presentation skills, is fantastic."
After eight years at Bayer, Kavita went it alone and founded Oberoi Consulting, which soon made its mark by providing clinical audits, business consultation and IT training to GP practices, primary care trusts and the pharmaceutical industry.
The IT dimension is also an aspect of her expertise that can be tracked to degree study: "I was always into computers and my final-year project at Huddersfield was IT-based. I wrote a program on catalytic hydrogenation, using the computers that we had in the labs."
Once she had established her own consultancy, Kavita's business portfolio rapidly burgeoned, so that that it now includes co-ownership of the large security company Octavian, plus commercial property interests. She has been named in an HBOS survey as one Britain's 100 most entrepreneurial women.
In addition, she has become highly sought after as a keynote speaker at corporate events and is a leading figure in several organisations designed to inspire young people to achieve their potential.
TV came calling too, and Kavita has appeared on Channel 4's The Secret Millionaire plus programmes, such as Newsnight, Working Lunch and The Apprentice – You're Fired.
(see her talk more about her career and life story in the video below)
Next up is a series on Sky 1 named The Mother of Invention in which she investigates promising new ideas in detail before committing her own investment cash. However, unlike the BBC's Dragons' Den, she is the only actual investor on the panel and she is enthusiastic about the format.
"I have industry experts with me and I can ask them questions about the market, which is really useful if you are looking at a product that is not in your area of expertise. The programme follows a person right through from patenting their invention, so you see a lot more of the person behind the product rather than just a five-minute pitch."
The Mother of Invention is scheduled to be aired in May and Kavita is hopeful about the potential of the products she investigated and backed with her own cash. One of them – a rapid milk cooler – will probably be in the shelves of a major retailer soon.