Huddersfield artist Ashley collects his award
Fri, 19 Jul 2013 12:41:00 BST
Ashley Jackson becomes an Honorary Doctor of the University of Huddersfield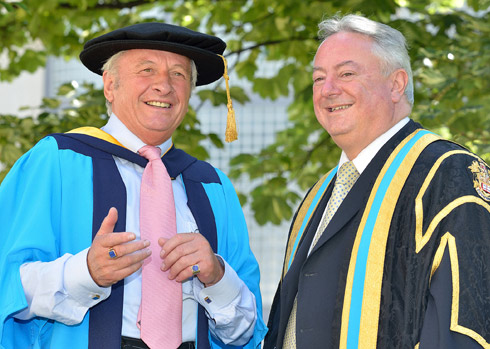 ASHLEY Jackson (pictured above with the University's Vice-Chancellor, Professor Bob Cryan) has had an extremely distinctive and illustrious life in the world of art and was elected a Fellow of the Royal Society of Arts at the age of 26.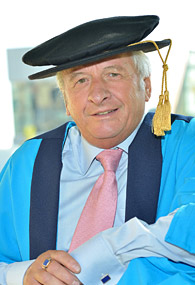 Today, the Huddersfield-based artist has received a further accolade to add to the many he has received over the years when he stepped on to the platform to accept his Honorary doctorate of the University.
Since opening his first gallery in 1963, Ashley Jackson has become one of the country's leading and most successful watercolourists. His unique, evocative and distinctive moorland paintings have become synonymous with Yorkshire. His works have been exhibited worldwide and adorn the walls of many successful and famous people, including former US Presidents, and in locations as varied as NATO headquarters.
He had his first series on the BBC television on Pebble Mill at One in 1978 with a further series in 1985. In 1989, the critically-acclaimed A Brush With Ashley was commissioned by Yorkshire Television and continued for nine series over twelve years. Likewise, his books have been extremely well received by artists and none artists alike.
In 1996, Ashley was presented with the award of Yorkshire Arts and Entertainment Personality of the Year for his commitment, promotion and encouragement of art and in 2006 he was honoured with the Lifetime Achievement Award. Further awards of Yorkshire Icon, Yorkshireman of the Year and Freedom of the City of London have since been bestowed.
Throughout his career Ashley Jackson has always been an ambassador for the Arts and has strived to encourage people not just to take up art, but to appreciate the beauty of the landscape around us. He has worked for over 14 years in Wakefield Prison, with The Prince's Trust and providing free schools programmes. It is this aim of making art accessible to all that still drives him.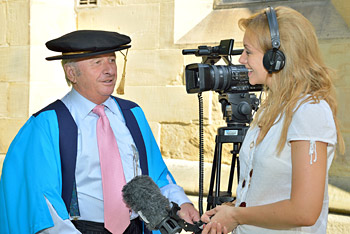 Ashley Jackson was interviewed at his Awards Ceremony by Yorkshire Television's Victoria Whittam (pictured), who is a reporter and presenter for the Calendar News television programme. Victoria Whittam is also a graduate of the University of Huddersfield having gained a 2:1 in her Media and Television Production degree. She has previously worked as one of the team on the Tonight programme with famous newreader and presenter Sir Trevor McDonald before being selected from 800 candidates to join Yorkshire Television.