Huddersfield Art Gallery Partnership
Thu, 11 Apr 2013 16:31:00 BST
ROTOЯ launches new partnership between University and local gallery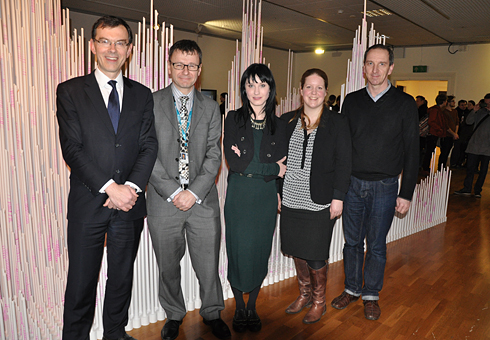 Pictured above at the Huddersfield Art Gallery [l-r: Professor Tim Thornton (Pro-Vice Chancellor for Teaching and Learning, Dr David Smith, Director of Resources at Kirklees Council, Dr Catriona McAra Research Fellow in Cultural Theory, Ruth Gamble from Huddersfield Art Gallery and Professor Steve Swindells Director of Research and Enterprise and Director of Graduate Education School of Art, Design and Architecture
A display of award-winning artwork by the University's Dr Jill Townsley, from the School of Art, Design and Architecture, marked the launch of the ROTOЯ Transdisciplinary Dialogue and Debate programme at the Huddersfield Art Gallery.
ROTOЯ offers a community of artists, designers and curators whose ideas and connective practices have migrated and spanned artistic production, techno-design research, craft and cultural studies, a platform in which to display their work.
Now in its second year, this collaborative partnership programme between the University of Huddersfield and Huddersfield Art Gallery will continue to include the work of art and design staff from the University until the end of 2013 and features a number of public events in the form of artist/designer and curator.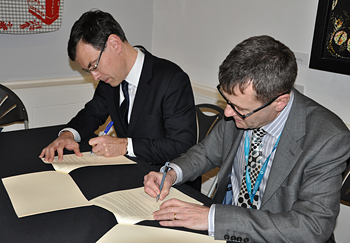 To mark the occasion, a Memorandum of Understanding was officially signed by representatives from both institutions – Professor Tim Thornton, the University's Pro-Vice Chancellor for Teaching and Learning and Dr David Smith, Director of Resources at Kirklees Council [pictured right].
Dr Townsley's exhibition named Sisyphus includes the award-winning Till Rolls [pictured above]. A painstakingly assembled sculptural installation consisting of hundreds of paper till rolls, extruded to different heights so that they resemble a strange cityscape.
This piece of artwork recently won the Jury Press Award at one of the world's most prestigious exhibitions – the Arte Laguna Prize, held annually in Venice. It has also been exhibited in the USA, where it won praise from critics.
This extraordinary exhibition also includes a large pyramid made from 9273 plastic spoons, where the formation slowly decays and collapses whilst on display. The exhibition can be seen until Saturday 13 April at the Huddersfield Art Gallery.
Next showcasing in the ROTOЯ programme is Future Backgrounds by Dr Gil Pasternak which will be on display from 27 April until 6 July, followed by David Swann with Mobilising Healthcare and concluding with Brass Art: The Imagining of Things. Click here to view full programme.
As a direct result of ROTOЯ, the Institute of Contemporary Arts (ICA), in London, has partnered up with the University of Huddersfield to hold a symposium exploring Public Engagement due to take place on 23 May, 2013. For further details about this event, please contact Dr Anna Powell, Research Assistant in Contemporary Art.