HRH The Duke of York opens the International Study Centre
Fri, 13 Sep 2013 12:04:00 BST
HRH The Duke of York opens the International Study Centre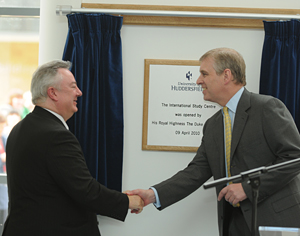 Pictured left: His Royal Highness The Duke of York shakes hand with the University's Vice Chancellor Professor Bob Cryan at the opening of the International Study Centre.
‌The University of Huddersfield was pleased to welcome His Royal Highness The Duke of York to the Queensgate Campus on Friday 9 April, 2010.
Prince Andrew officially opened the University's International Study Centre, enjoyed lunch with local businessmen and later presented awards for the Duke's own Community Initiative.
His Royal Highness was escorted by the Lord-Lieutenant of West Yorkshire, Dr Ingrid Roscoe, who herself received an honorary award from the University in 2007.
The Duke was welcomed to Huddersfield by the University's Vice-Chancellor, Professor Bob Cryan. Also attending the visit was the Mayor of Kirklees, Cllr Julie Stewart-Turner, and the High Sheriff of West Yorkshire, Mr Richard Clough.
The International Study Centre offers students from across the world a range of specialist preparation courses for advancement to degree subjects in Huddersfield.
The University currently welcomes over 2,000 international students from over 130 countries and the Duke met some of these students during his visit.
His Royal Highness was then the guest of honour at a lunch on the campus for local businessmen in his role as the UK's Special Representative for International Trade and Investment.
Following the lunch, he presented the Community Initiative Awards in the University's St Paul's Hall. The Duke founded the initiative in 1997 to actively encourage "the development of community spirit, individual leadership and initiatives" in Yorkshire and the Humber.
Click here to view the other Royal visits to the University of Huddersfield.