Honorary Awards - July 2013
Fri, 10 May 2013 14:50:00 BST
Honorary Awards announced for the July Awards Ceremonies

FAMOUS Yorkshire artist Ashley Jackson and businessman-philanthropist Michael Woodhead are to receive honorary doctorates from the University of Huddersfield.
Leading musicians, a scientist, a top African politician, an inspirational female entrepreneur and an international actor are also to be honoured at the University's award ceremonies in July.
_____
‌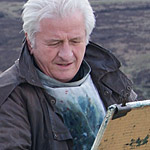 Ashley Jackson's evocative and distinctive paintings of brooding moorlands are some of the best-known images of the Yorkshire landscape and have been exhibited around the world. And his determination to make art accessible to all has meant that he furnished illustrations for a BT phone book cover and a Yorkshire Bank debit card. He has made many television appearances, including the long-running YTV series A Brush with Ashley. His gallery in Holmfirth has long been established as a mecca for art lovers.

Michael Woodhead is Huddersfield-born and a long-serving member of its University's Council. He began work as a stockbroker's clerk when he left school and later built up Huddersfield firm Battye, Wimpenny and Dawson into one of the North's major firms in its field. He established the Michael Woodhead Charitable Trust, which has donated many thousands of pounds to a variety of deserving causes. He returned to business life as chairman or director of four public companies and chaired the Prince's Trust in Yorkshire. He also joined the Council of the University of Huddersfield and became Chairman of the Huddersfield-based wealth management company Robertson Baxter, which has enjoyed rapid growth.

Also to receive an honorary doctorate is Professor Colin Carlile, a leading experimental physicist currently playing a central role in the development of a major new research facility – the European Spallation Source (ESS) at Lund in Sweden. This is the latest in a sequence of key appointments at important scientific sites and institutes that have been held by Professor Carlile, during a career that began in the early 1970s.

There will be an award too for The Honourable Fatou Lamin Faye, an alumnus of the University of Huddersfield who has risen to be an education minister in her native Gambia. In 1996, after embarking on a successful career in training and lecturing, she came to the UK for Master's degree study at the University of Huddersfield. On return to The Gambia she took up a sequence of key educational posts until 2004 when Fatou Lamin Faye was appointed as Minister of Education and Minister for Basic and Secondary Education.

Kavita Oberoi is a graduate of the University of Huddersfield who is now established as one of Britain's leading entrepreneurs. Her motivational skills have led to her making several TV appearances, in high profile programmes such as The Secret Millionaire. Born in Bradford, Kavita Oberoi opted to study applied chemistry at the University of Huddersfield and underwent a work placement at the giant ICI plant in Huddersfield. After graduation she landed a job with Bayer Pharmaceuticals. After eight years, she went it alone and founded Oberoi Consulting and in 2009 she was highlighted by HBOS as one of Britain's 100 Most Entrepreneurial Women. In December last year she set up the Oberoi Business Hub in Derby. Philanthropic work includes her appointment by the World Association of Girl Guides and Girl Scouts as Chair of the Global Girls' Fund Board.

Duncan Druce is a composer and violinist who has lived in the Holme Valley for 30 years and lectured at the University of Huddersfield. In the 1960s he came to prominence as a performer of contemporary music and as a pioneer in the performance of early music, appearing with many leading groups, such as The Academy of Ancient Music and The Parley of Instruments. In addition to his highly varied output of compositions he has also achieved considerable success for his reconstructions of incomplete or lost music by composers such as Mozart, Bach and Beethoven. His acclaimed version of Mozart's Requiem has had many performances and recordings.

Ty Unwin studied music at the University of Huddersfield and completed his first TV commission while completing his degree. After graduating, his career led him to become one of the UK's top composers of film and TV music. He has had a special relationship with the BBC and scored many flagship shows, including Space, Human Journey, Atlantis and Last Man Standing. Much of his music has been released on CD, including classical works on Big Steel Drum, plus his soundtrack to the BBC's Vets in the Wild. Ty Unwin has produced albums for Justin Sullivan and Julian Smith and has worked as a keyboardist for a roster of artists, including Roger Daltrey, Alice Cooper, Paul Young and New Model Army.

ONE of Britain's favourite actors – whose roles have ranged from Jesus Christ to stiff-upper-lip hero Richard Hannay – is to receive an honorary award. Robert Powell found fame in the 1977 TV series Jesus of Nazareth. He starred in the 1978 remake of The Thirty Nine Steps and reprised the role of its central character Richard Hannay in a 1980s TV series. Alongside Jasper Carrott, he was a bungling sleuth in the 1990s sitcom The Detectives. Recent TV roles have included a six-year stint in BBC 1's Holby City.