Honorary Award for Town Chairman
Thu, 15 Nov 2012 11:21:00 GMT
Dean Hoyle receives honorary doctorate from University Chancellor Sir Patrick Stewart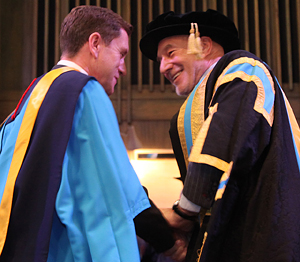 LIFELONG Huddersfield Town fans and close friends took centre-stage at the University's Awards Ceremonies.
The Terriers fans came face-to-face when the Chancellor of the University of Huddersfield, Professor Sir Patrick Stewart, presented businessman and Huddersfield Town Football Club Chairman Dean Hoyle with an honorary award in the St Paul's Hall. (pictured)
Mr Hoyle was presented with the award of Honorary Doctorate of the University in recognition of his inspirational role in the community.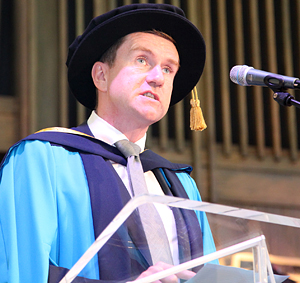 A self-made multi-millionaire and an inspirational speaker on business matters, Dean Hoyle, is best known to the wider public as the man whose passion and shrewdness have played a key role in propelling Huddersfield Town Football Club back into the big time. After a thrilling play-off victory at Wembley, the club is now returned to the Championship.
Dean Hoyle is a lifelong Huddersfield Town supporter and joined its board in 2008. He was appointed as Chairman in June 2009. In addition to his passionate desire for on-field success, he is also determined to ensure that the club should operate as a viable business.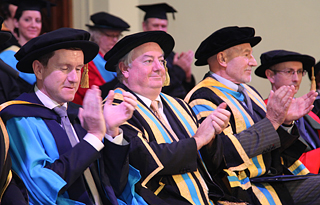 Pictured with Dean Hoyle (seated left) at the University's Award Ceremony is Vice-Chancellor Professor Bob Cryan (centre) and Chancellor Professor Sir Patrick Stewart (right)
‌He was born in Wakefield in 1967 and was an engineering apprentice before he began selling greeting cards from the back of a van. He and his wife Janet became the founders of Card Factory, a chain of greeting card and gift stores, which they sold in 2010.
Dean Hoyle has set out to inspire new generations of business people by speaking to large audiences at events such as conferences. His contribution to the community as the Chairman of Huddersfield Town and his support of business initiatives across the region led to him being named 2011 Business Person of the Year by the Huddersfield Examiner newspaper.
He is also a keen charity fund-raiser. With six other cyclists, Dean Hoyle cycled from Huddersfield to Wembley to raise more than £45,000 to send 1,000 local children to the play-off final where Huddersfield Town beat Sheffield United. He is also a major supporter of Yorkshire Air Ambulance, where fundraising efforts are due to top £1m this year (see Dean Hoyle talk more about his charity work and the highs and lows of being Chairman of Huddersfield Town Football Club in the video above).
Chancellor of the University, Professor Sir Patrick Stewart, praised Dean Hoyle's work within the community: "Entrepreneurship, economic regeneration and community engagement are right at the heart of what we teach, encourage and believe at the University of Huddersfield and Dean Hoyle typifies all of those things."
He continued: "He's a great example of a self-made businessman, not least because after he had become successful, he looked for ways in which he could use it to help other people and improve their quality of life. You really sense that when he took on the ownership of Huddersfield Town, he realised, as a lifelong fan, how important it was to the community, on and off the field. That makes him a model football club chairman.ˮ
"I was delighted to confer upon him an honorary award and the University of Huddersfield is honoured that he accepted."