Highly successful conference built upon the Labour Orators confer
Mon, 10 Dec 2012 16:22:00 GMT
Oratory in Conservative Party Politics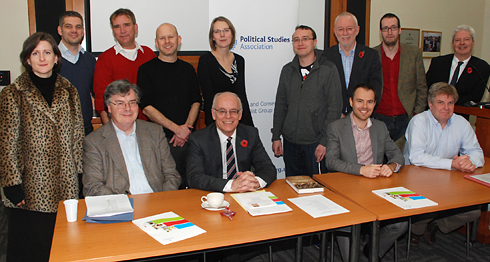 Pictured above with the attendees of the conference are the co-organisers, Richard Hayton, seated second from the right and Andrew Crines, standing second from the right
This second highly successful conference built upon the Labour Orators conference held at the University of Huddersfield in November 2011.
This year the focus was on the use of oratorical skills deployed by Conservative Party politicians, from Stanley Baldwin to the present day.
The conference was organised through the Political Studies Association Conservatives and Conservatism Specialist Group, convened by politics lecturer Richard Hayton.
Members of the group, who are specialists in the study of Conservative politics, delivered papers on significant figures from the party's history, including William Hague, Michael Heseltine, and Margaret Thatcher.
Lord Norton of Louth, who both sits on the Conservative benches in the House of Lords and is an active Professor of Politics at the University of Hull, took on the challenge of analysing Enoch Powell, who used his powerful oratory to sometimes devastating effect.
Professor Kevin Theakston (University of Leeds) discussed the man commonly held up as the greatest orator in British political history – Winston Churchill.
Huddersfield's Emeritus Professor of Politics Brendan Evans gave his insights on Harold Macmillan – who, he confessed, he could well remember as Prime Minister.
Meanwhile Dr Katharine Dommett (from the University of Sheffield) considered the flamboyant oratorical style of the politician tipped to be the next leader of the party, Boris Johnson.
As with the Labour event held last year, the conference organisers, Andrew Crines and Richard Hayton, plan to develop the proceedings into an edited book with a leading academic publisher. Together with the volume on Labour politics, they hope that the books will make a significant contribution to the study of oratory and rhetoric in British politics.