HEA CEO accepts professorial role
Tue, 12 Feb 2013 09:58:00 GMT
HEA CEO Craig Mahoney becomes Huddersfield's Professor of Higher Education Strategy
ONE of the most forward-thinking figures in UK Higher Education has a 'new academic home' – the University of Huddersfield.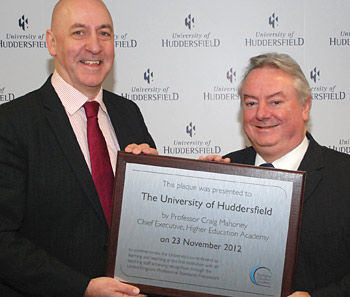 Australian-born Professor Craig Mahoney (pictured with the University's Vice-Chancellor, Professor Bob Cryan) continues in his full-time post as Chief Executive of the Higher Education Academy, but he has now been invited to become Professor of Higher Education Strategy at Huddersfield. And he was delighted to accept.
"Working for a national agency meant that I did not have an academic home anymore," he explained. "But now I have, and I hope I will be seen as resource for the University of Huddersfield, helping with the development of a research environment, supporting the work of students and using my knowledge and experience to support the university's aspirations around learning and teaching."
In 2012 the University of Huddersfield was the first in the UK at which all teaching staff had sought and been awarded professional recognition by the Higher Education Academy. Professor Mahoney himself presented a plaque to commemorate what he described as an outstanding achievement.
He is uncompromising in his belief that all universities should follow the Huddersfield example.
"I would like to see all students taught by people trained and developed around their pedagogic skills. The common assumption is that if you have a PhD or academic qualification you are therefore a natural teacher. Life doesn't work like that! It is incomprehensible to me that the sector has been allowed so long to go along like this."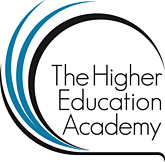 Professor Mahoney does not believe that a qualification such as HEA accreditation should be made compulsory, but he is building up a body of evidence to prove that university teaching staff who have undergone training and development programmes and continued with career-long personal development are demonstrably better at their jobs.
"We need vice-chancellors to say that the evidence is compelling, just as Bob Cryan has done at Huddersfield."
‌"...well-placed to make informed predictions..."
After initial degree studies in chemistry and maths in his native Tasmania, Professor Mahoney relocated to the UK for further study to PhD level and a highly-varied academic career that has included a wide range of disciplines, including psychology, business, sport – he is a former semi-professional squash player – plus many aspects of pedagogy, with an emphasis on e-learning and the use of technology.
This means he is well-placed to make informed predictions on the shape of things to come in the university sector.
He is yet to be convinced that MOOCs – 'massive on-line open courses' – which are now being offered by a small number of universities to well-over 100,000 students at a time are the way ahead.
The jury's out on MOOCs, says Professor Mahoney. There will always be a need for a physical university campus, he believes, but also argues that MOOCs represent the kind of thinking about delivery of courses that the HE sector must demonstrate if it is to remain relevant to young people in an age where research material and course content are readily available online.

The Vice-Chancellor of the University of Huddersfield, Professor Bob Cryan, said he was delighted that Craig Mahoney had accepted the offer of a professorship.
"He is a man who is full of energy and ideas and unstinting in his views about teaching standards at universities. I was proud when we achieved one hundred per cent HEA accreditation and I look forward to working closely with Craig," said Professor Cryan.
"I am sure that some of his ideas will be provocative and will challenge a lot of our assumptions about the nature of universities in the age of e-learning, but that is the kind of stimulus that will keep us on our toes and ensure that the University of Huddersfield continues to make great strides," added Professor Cryan.