Handball anyone?
Wed, 11 Sep 2013 15:55:00 BST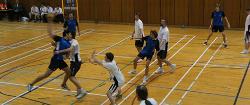 Are you interested in joining the Handball Club? This popular sport is played across the world and has grown in popularity following its success at the London Olympics.
By joining the club you will be able to meet other people who are just beginning to play the game. It's a simple sport which only requires a ball to get started and anyone can join in.
Find out more here: