Great War in International Perspective
Thu, 24 May 2012 18:44:00 BST
Huddersfield researchers at ANZAC Day commemoration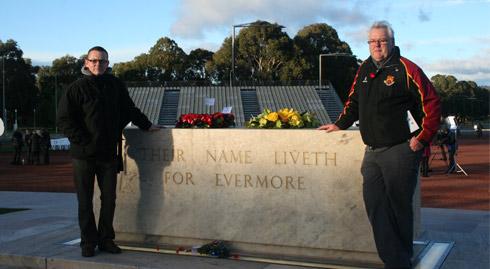 Dr Andy Mycock (left) and Professor Jim McAuley at the Tomb of the Unknown Soldier in Canberra after the Anzac Dawn Service
Established links between the University of Huddersfield and the Australian National University (ANU) based in Canberra were further enhanced with a recent research visit to Australia by Dr Andy Mycock and Professor Jim McAuley.
Both were guests of the Centre for European Studies based at ANU, a leading institution with an international reputation for first-class research. They were invited by Dr Ben Wellings and Dr Shanti Sumartojo, long-time collaborators with Huddersfield's Academy for British and Irish Studies and the Political Studies Association Britishness Research Group.
The Huddersfield academics were invited to contribute to a symposium, The Politics of the Past: Great War Commemoration in International Perspective, which brought together leading scholars from Australia, New Zealand and across Europe. With the centenary of the Great War only two years away, the two-day symposium sought to deepen understanding of the global and domestic importance of the forthcoming Great War centenaries of 2014-18.
The symposium focused on politics, history, sociology and international relations to explore and analyse the distinctions and intersections between debates about the past in Australia and Europe. Dr Mycock presented a paper on the role of politics in debates about history and memory in the UK whilst Professor McAuley explored issues of memory, conflict and the First World War amongst loyalist communities in Northern Ireland.
The symposium was in part a response to the increasing popularity of Anzac Day when Australians and New Zealanders commemorate the first landings of their forces on April 25 1915 on the Gallipoli peninsula. The intensification in the promotion of Anzac Day by successive Australian governments is well-documented, but little scholarly work has been done to place how it is understood within an international, comparative perspective. Professor McAuley contributed to a discussion chaired by Dr Wellings on the main themes of the symposium (view video).
The pair were also invited to attend the Anzac Day Dawn Service in Canberra together with representatives from the Australian government and international dignitaries. This was held at 5.30am and commemorates the time of the first landings at Gallipoli. They also attended the separate Aboriginal and Torres Strait Islander Commemorative Ceremony for Indigenous Australians who have served in the Australian forces since 1901.
Later in the day they were invited to watch the Anzac Day parade through Canberra before attending a special reception as the guests of the French Ambassador at his residence.
"We were proud to represent the University at the symposium and other events commemorating Anzac Day," said Professor McAuley. "Our visit further strengthened links between Huddersfield and the ANU. The symposium was extremely productive and plans are already developing for research publications and subsequent funding bids."