Fourth Queen's Nurse for Uni
Wed, 19 Jun 2013 14:06:00 BST
Karen becomes the University's fourth Queen's Nurse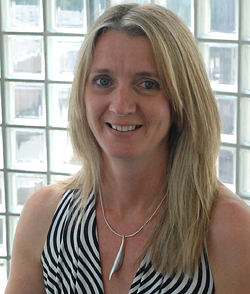 HEALTH visitors are to set play an increasingly important role and University of Huddersfield lecturer Karen Adams (pictured right) aims to make sure that her appointment as a Queen's Nurse will help to boost awareness of the profession and its contribution to the health and well-being of families and communities in Britain.
A health visitor by background, Karen is currently leader of the Specialist Community Public Health Nursing Programme at the University. Its students – who number around 40 a year and are all trained nurses or midwives – work towards an MSc degree in Public Health Nursing Practice.
The title Queen's Nurse is bestowed by the Queen's Nursing Institute (QNI). It is awarded after a successful application that requires evidence of experience – backed up by references – and, in the words of the QNI, has a "commitment to patient-centred values and continually improving practice".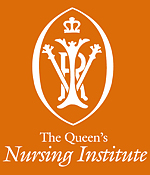 Only a small number of Queen's Nurses work in the Higher Education sector, and now that Karen Adams's application has been successful, the University of Huddersfield has four of them. She joins Carl Covill, Melanie Rogers and Vicky Kaye (pictured below left to right) in achieving the distinction.
"There are very few health visitors who are Queen's Nurses," said Karen. "So this helps raise the profile of health visiting within community nursing at this very important time."
This is because the DH Report The Health Visitor Implementation Plan 2011–15 sets out a plan, which aims to bolster the health visitor workforce by 4,200 by 2015 and deliver a new and enhanced model of service.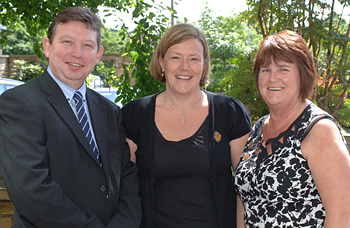 Health visitors have an important role to play in promoting the health of families, children and the wider community and in supporting vulnerable families. "Health visitors have a particularly high profile at the moment because an increasing body of evidence suggests that health visitors are best placed to support early child development, promote maternal mental health, and support the formation of early attachment for children which is significant in terms of their long term health," says Karen (more details).
Karen did her own health visitor training at the University of Huddersfield and qualified as a health visitor in 1991, practising for more than a decade. She returned to the University as a lecturer in 2002 and is also carrying out research for a doctoral degree in which she is looking at the educational needs of practice teachers.