For the good of society
Wed, 11 Apr 2012 10:28:00 BST
Social enterprise conference is a major attraction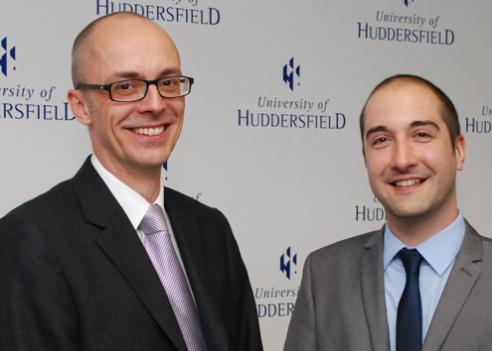 Chris Low (left) of the University of Huddersfield and Kirklees Council's Chris Chinnock at the social enterprise event
SOCIAL enterprise is coming into its own, encouraged by recent legislation. And when a conference on the subject at the University of Huddersfield rapidly filled up – and had to turn away late-applicants – that was further evidence of burgeoning interest in businesses which set out to do social good rather than just turn a profit.
The event was entitled 'Valuing Social Enterprise' and was hosted by Dr Chris Low, who is Head of the Division of Public Health and Wellbeing at the University. He has been director of the University of Huddersfield's Social Enterprise Unit and in 2010 he was appointed a HEFCE-Social Enterprise Ambassador.
He explained that the day-long conference was the result of talks he held with Chris Chinnock, a social enterprise development officer for Kirklees Council.
"We felt it was time for something of this nature because there have been some policy changes in the field, and the event caught fire!" said Dr Low. "We were over-subscribed at 100 delegates and we were contacted by people asking if they could sneak in at the back."
Dr Low explained that recent legislation such as the Public Services (Social Value) Act had created a favourable climate for social enterprise. This is a result of the Coalition Government's policy to free up public service so that it is delivered in a greater variety of ways.
The Valuing Social Enterprise event consisted of presentations from a wide range of experts in the field. They included the Leader of Kirklees Council, Cllr Mehboob Khan, and Huddersfield MP Barry Sheerman, who is a Visiting Professor of Social Enterprise at the University of Huddersfield. They provided the local and the national perspective.
Also speaking were Lucy Findlay, of Social Enterprise Mark, the organisation that certifies social enterprises, plus Tom Taylor of the Kirklees-based charitable organisation Northorpe Hall and Gavin Farrar of the Keighley-based employment and training organisation Confianza.
During the afternoon there was a series of seminars on social enterprise topics.
"We have run social enterprise masterclasses before that have been very popular, but this event was different because it showed that there has definitely been a shift in attitudes," said Dr Low.
"There are people who have been running their own private businesses who now wanted to do something socially good, and they came along to find out how they could use social enterprise as vehicle for making an impact, particularly in fields such as youth employability."
The University of Huddersfield is a significant centre for research in social enterprise – with an international profile. For example, a partnership with a German university is currently taking shape. There have been NHS contracts to deliver social enterprise training and several courses in the healthcare field incorporate the topic.