Forced integration of communities criticised
Mon, 19 Nov 2012 16:21:00 GMT
"...Muslim community – pathologised at policy level and victimised at the grass roots level..."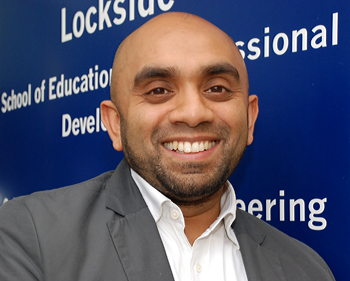 RESEARCH conducted by University of Huddersfield lecturer Dr Shamim Miah (pictured) has made him a critic of attempts to use the school system to carry out the "forced integration" of ethnic and religious communities in English towns and cities. He also claims that there is widespread reluctance to accept Muslims as fellow citizens.
School mergers in areas such as Leeds, Oldham and Burnley have led to racial attacks on Muslim pupils and a backlash among the white community, according to Dr Miah in a newly-published journal article.
He writes that his analysis of mergers "shows how the Muslim community is pathologised at policy level and victimised at the grass roots level of lived experience". He adds that "the idea of integration has to be contextualised within the racialised contemporary public discourse, which is not only reluctant to accept Muslims as fellow citizens, but deems them antithetical to the West".
Those are among the conclusions of an article entitled School desegregation and the politics of 'forced integration' in the current edition of the journal Race & Class, published by the Institute of Race Relations.
Dr Miah – a senior lecturer in religion and education at the University of Huddersfield – was also featured in a recent edition of the BBC Radio 4 discussion programme Sunday, during a segment based on the views of Professor Ted Cantle, of the Institute of Community Cohesion, who is highly critical of multi-culturalism, which he believes lies behind the segregation of communities.
Oldham – the scene of riots in 2001 – was used as a case study for the radio report and when he made his contribution, Dr Miah rejected suggestions that the town's Asian community was becoming more insular and self-contained. Census information and other data showed that successful Muslim families were increasingly moving into 'white' districts.
"One of the things you will find is that integrated mixed schools are the top choice for Muslim parents and Muslim children. They see that as a way into mainstream British society. The idea that there is self-segregation is something that should be contested."
However, Dr Miah believes that faith-based schools can lead to social benefits.
"Christian or Muslim schools might maintain an aspect of segregation, but that can bear fruit later on in terms of delayed integration. If an individual is confident in his or her identity and faith then that allows them to integrate more fully in the future," says Dr Miah.