Football means business for this entrepreneur
Fri, 25 Jan 2013 13:16:00 GMT
Arran means business as 'the man in the middle'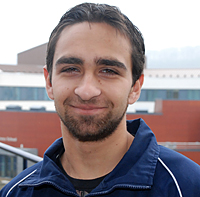 STUDENT Arran Williams (pictured) is determined to make it big in the field of football – but it will be as the man in the middle, trying to make sure that games flow freely to enhance the enjoyment of its participants, but fully prepared to hand out red cards if necessary!
Passionate about soccer, his goal is to score success as a referee. His sights are set on the Premiership and the international stage. Meanwhile, as a student of Business and Financial Services at the University of Huddersfield, 20-year-old Arran – who is from Elland and a former pupil of Brooksbank School – is placing his career on a suitably businesslike footing.
Arran is currently in the Enterprise placement year which is a component of his degree course. Most students find posts with firms, but Arran is going it alone, offering his services as a football coach and adding to his experience as a referee.
It's going well – enough to earn Arran a Kirklees Council Youth Enterprise Award, which he received towards the end of last year. He has been involved in plenty of coaching – including Huddersfield Town Ladies – and by the autumn will probably have notched-up his 100th game as a referee.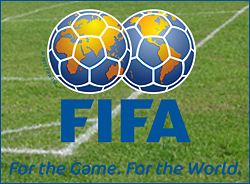 He officiates in a number of competitions such as the West Yorkshire League and has also had a first taste of working abroad when he joined the roster of referees for a summer tournament in Denmark. He is appraised and marked by the clubs for every game he controls and as his expertise increases he will move up the refereeing levels and he hopes, into the professional arena. He aims high. "I want to get on the FIFA list," he says.
‌Football is his future
Arran first had a taste of football at Cross Lane Primary School in Elland. He was smitten by the sport and played whenever he could as a speedy right wing back. Clubs have included Elland Junior and Ealandians FC, with whom he still trains.
By the time he had reached his late teens, Arran came to terms with the fact that he would probably not develop enough to make it as a professional player. Determined to stay involved with the sport, however, he decided that coaching and refereeing were the way to go.
"So I signed up for a refereeing course run by the West Riding County FA and the next thing I knew I was out there doing a game!
"It was certainly a different experience," said Arran. "Having played from the ages of ten to 19, I was running into the position I normally played, so had to get back to where I needed to be to make the decisions."
He soon developed a feel for refereeing, an important dimension of which is to build trust with the teams. He says: "You should always have a smile on your face, so you can calm everything down."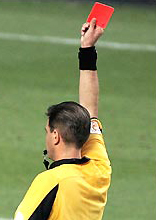 He also needs to gauge the temperature of a game – whether advantage can be allowed so that play can flow, or when to step in with a red card. Unfortunately, he's had to dismiss seven players so far, which is a relatively low number, says Arran, given the number of games he's been involved in.
"Abuse from players and spectators is part of the job – though it shouldn't be," adds Arran. "Some players are respectful. You will get the odd one or two out of the team who are all right with you, but the odd nine or ten just scream and shout!" he says ruefully.
He is gaining confidence and expertise as a referee, whilst adding to his qualifications and experience as a coach. His Business and Financial Services studies at the University of Huddersfield plus advice from its Enterprise Team have helped him make sure that during his Enterprise placement year he keeps his feet on the ground financially. The University of Huddersfield recently won the award of the Entrepreneurial University of the Year for 2012.
Arran will complete the final year of his degree during 2014 and aims by then to be refereeing at semi-professional level. Football is his future – as the most businesslike referee in the game.