First prize in sports marketing
Mon, 29 Oct 2012 16:11:00 GMT
Work hard, play hard... it's all the same thing for Olga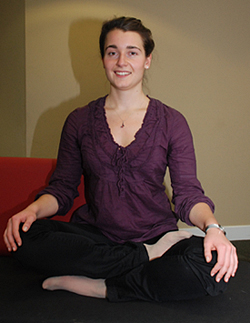 SHE came from her native Siberia in order to study business management at the University of Huddersfield. But Olga Polyakova (pictured right) is also in demand as a yoga teacher, who runs two popular classes a week.
However, the two dimensions of her life are closely linked, because Olga is conducting her PhD research into sports and fitness centres and their levels of service quality and customer satisfaction. She has built up in-depth theoretical knowledge of the subject and will soon embark on her quest for data, by visiting sports centres around the UK, conducting surveys and interviews.
But although her project is just at the half-way stage, Olga has already won an award for her research findings. Her paper at the Academy of Marketing Conference, held in Southampton, won first prize in the sports marketing category.
Olga is from Eastern Siberia and her first degrees were in public administration and in Russian-English interpreting. She was also a keen sportswoman, with a passion for mountain climbing. This emphasis on action-packed activity meant Olga was initially reluctant when her mother urged her to come to yoga classes, but she was soon absorbed in both the physical and spiritual side of the discipline.
The expertise she gained proved useful when she first arrived at the University of Huddersfield in order to study for a Masters degree, having won a scholarship from the Russian Ministry of Education.
Alongside her studies, she began to hold increasingly popular yoga classes at the University Sports Hall, and they had an influence on her academic direction.
"My future PhD supervisor, PR and Marcomms lecturer Mohammed Mirza, taught one of my Masters modules, in marketing management. For one assignment I had to pick the product I had to market and I thought, 'What am I interested in?'. The answer was yoga."
Having focussed on sports marketing during her Masters course, she has developed the subject for her PhD, in which she examines the issue of service quality and how it can be measured at sports and fitness centres. She also examines the complexities of customer satisfaction – including psychological aspects – and how closely it is linked to service quality.
Huddersfield has become her home from home, says Olga, who has also begun to teach subjects including marketing plus sports branding and sponsorship, and to supervise undergraduate students in their final-year dissertations.
Her future might involve a move into industry, but she is interested in the prospect of an academic career.
"If I could lecture in the area of sports marketing area and carry on with my yoga classes that would be just brilliant!" she added.