First appearance for CCP5 in Huddersfield
Mon, 03 Sep 2012 13:59:00 BST
Leading scientists in the field of computer-based research gathered at the University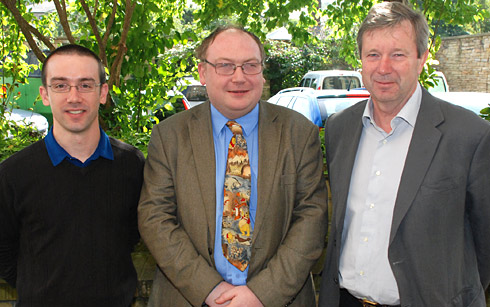 CCP5 co-organiser David Cooke (centre) is pictured with keynote speakers Dr Sebastian Kerisit and Professor Paul Madden
THE University of Huddersfield was the venue for the 2012 conference of global experts in a crucial field of scientific research.
Managed by the Science and Technology Facilities Council, Collaborative Computational Projects (CCPs), bring together leading UK expertise in key fields of computational research to tackle large-scale scientific software development.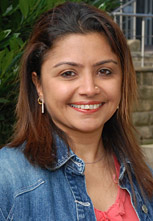 There are several CCPs, covering a range of research areas, funded by the Engineering and Physical Sciences Research Council. CCP5 deals with the use of computers to understand the properties of liquids and solids.
At the University of Huddersfield, researchers working in this field include Dr David Cooke and Dr Pooja Panchmatia (pictured left), who, as a member of the CCP5 Executive Committee, played a key role in bringing the conference to Huddersfield for the first time.
Over the three days, there were 18 sessions covering a wide range of CCP5's research. Among the eminent keynote speakers were Professor Paul Madden, who is the Provost of the Queen's College, Oxford, and whose academic career has included the professorship of physical chemistry at the University of Edinburgh.
He was elected a Fellow of the Royal Society in 2001 and held numerous visiting professorships across the world. He has published some 250 articles in the area of theoretical studies of material properties and computer simulation.
Also among the keynote speakers was Dr Sebastian Kerisit of the USA's Pacific Northwest National Laboratory. He spoke at a session that included a contribution from University of Huddersfield PhD student Amy Monnington, whose supervisor is Dr Cooke.
Among the other 60 attendees at the CCP5 meeting were Professor Steve Parker, of the University of Bath, who has conducted a research seminar at the University of Huddersfield and Professor John Harding of the University of Sheffield – a leading expert in the field of bio-mineralisation – who presented some of his work as part of the poster display that featured at the event.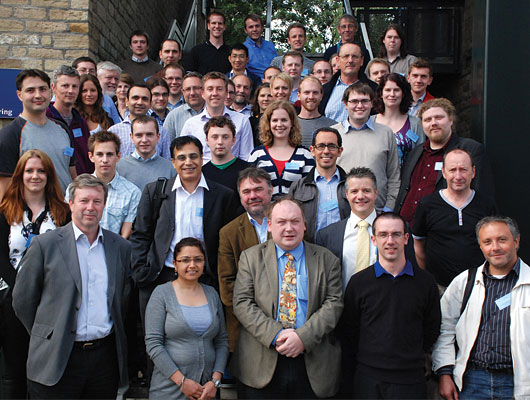 CCP5 delegates at the Conference