Firing their enthusiasm
Thu, 03 Nov 2011 11:15:00 GMT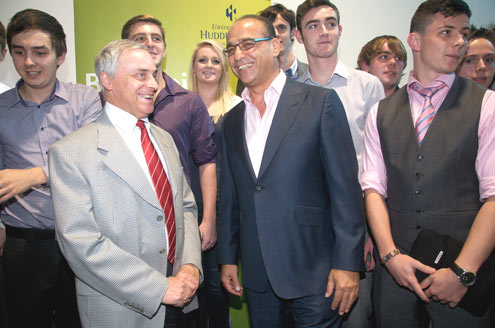 John Thompson, who is Professor of Entrepreneurship at the University of Huddersfield, and TV's Theo Paphititis are surrounded by would-be entrepreneurs
HUNDREDS of budding entrepreneurs from all over the North of England flocked to a special session featuring one of the UK's most famous businessmen, who told them about a course at the University of Huddersfield that could help fulfil their ambitions.
Serial entrepreneur Theo Paphitis, famous for his appearances on BBC TV's 'Dragons' Den', has helped to create a BA in Enterprise Development. Its unique feature is that students set up their own fully-fledged business as part of the course.
Every year, Theo – as ambassador for the course – hosts a special session at the Royal Armouries in Leeds. It is attended by sixth formers from across the North and over the four years in which the event has been held, numbers have steadily grown. This year 1,100 attended.
The sixth-formers heard from guest entrepreneurs who had appeared on the TV show, impressed Theo and his fellow Dragons and gone on to make a success of their businesses.
They were Worcester-based Neil Westwood, whose business is named Magic Whiteboard, plus Sarah Longthorn and Laura Booth, whose Hull-based firm Wedge Welly has made the Wellington boot trendy.
Later, the current Enterprise Development students enjoyed a master class in which Theo Paphitis oversaw a series of 'Dragons' Den'-style pitches featuring FOUR students who had launched businesses.
Meanwhile, Theo has arranged that all current Enterprise Development students will visit the Crewe HQ of stationery giant Ryman – where the national warehouse for the chain is housed and is also the distribution base for Theo Paphitis's latest high-profile venture, the lingerie supplier Boux Avenue.
The Enterprise Development degree is directed by John Thompson, who is Professor of Entrepreneurship at the University of Huddersfield. He is full of praise for the commitment and contribution of Theo Paphitis to the increasingly popular course.
"He has an excellent business track record, of course, and he is also the kind of person that young people find attractive and stimulating. The reception he gets from young people is quite remarkable."