Fashion in the age of the image
Wed, 02 May 2012 16:15:00 BST

Fashion icons - Audrey Hepburn, Mary Quant and Vivien Leigh
A NEW book by University of Huddersfield fashion lecturer Jayne Sheridan has been selected to join an elite selection of titles on sale at the world's leading design museum.
The book is entitled 'FASHION MEDIA PROMOTION the new black magic' and it is now available at the Victoria and Albert Museum in London.
"To be included with the sensational collection of Fashion books at the V&A is the most stunning accolade," says the author.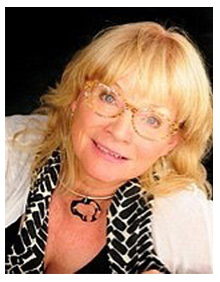 A former journalist and PR consultant, Jayne Sheridan has been lecturing in Fashion Communication at the University of Huddersfield since 2005.
She was helping students to write case studies and decided to develop ideas for herself. The result is a heavily-illustrated book which explores how media such as film helps to sell fashion. It is aimed at fashion and film lovers, students, and industry insiders.
"Fashion links with the media in a brilliant way," she says. "Fashion is so visual. It suits the digital age, where pictures are now just as important as words."
The book deals with fashion in magazines, newspapers, radio and television plus websites, streamed live from catwalk shows and also explores fashion's relationship with Hollywood, from Audrey Hepburn to the Meryl Streep movie 'The Devil Wears Prada' (see scene right).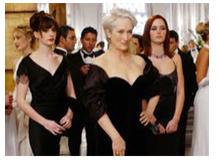 Two chapters on cinema re-imagine how 'Gone With The Wind' star Vivien Leigh provided a showcase for Christian Dior's collections and how Audrey Hepburn changed the way that 1960s women in Europe, and America saw themselves.
A chapter entitled 'Vivienne Westwood and Anglomania at the Met' reveals how important art and museums are to fashion.
Other industry icons such as Mary Quant and Paul Smith are celebrated and illustrations show how footballer David Beckham's move to AC Milan presented a "sensational shopping prospect" for wife Victoria.
As a lecturer, Jayne Sheridan is in no doubt of the importance of creative industry such as fashion to the UK economy.
"Some 17 per cent of wealth in Britain is generated by the creative industries. What inspires me as a teacher is that I love the idea that we might be creating the next generation of wealth."
'FASHION MEDIA PROMOTION the new black magic' by Jayne Sheridan is published by Wiley-Blackwell.