Entrepreneur in Residence
Fri, 10 Feb 2012 16:53:00 GMT
Entrepreneur Graham Leslie becomes the first Entrepreneur in Residence and Professor of Enterprise and Entrepreneurship at the University of Huddersfield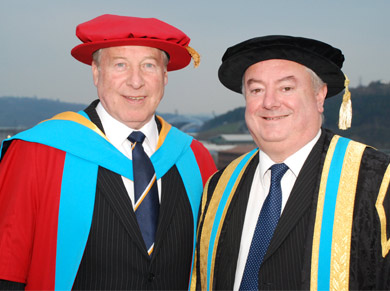 Graham Leslie (left) and the University's Vice-Chancellor, Professor Bob Cryan.
Huddersfield entrepreneur, Graham Leslie, is the first Entrepreneur in Residence and Professor of Entrepreneurship in the University of Huddersfield's Enterprise and Innovation Centre.
The University's Vice-Chancellor, Professor Bob Cryan said "I am delighted that Graham has taken on the role of Entrepreneur in Residence and Professor of Enterprise and Entrepreneurship at the University of Huddersfield. He has an outstanding track record of initiating and establishing new businesses and in this new role will make a major contribution to the economic regeneration of Huddersfield."
The Enterprise and Innovation Centre is a £12 million flagship project due to open in May 2012. The facility, which is funded through the European Regional Development Fund, aims to establish a unique environment to support spin-in and spin-out companies linked to the University to foster growth and economic regeneration within Huddersfield and the region. This is a first for the University and Graham Leslie has been working with the University over the last three years to make it a reality.
Graham Leslie is a serial entrepreneur, philanthropist and mentor. His business interests include pharmaceuticals, construction, baby products, media, health care and financial service sector.
Graham founded Galpharm International in 1982, and with his son Craig steered the company to success as the UK's largest supplier of non-prescriptive medicine, before selling to the Perrigo Group for $88m in 2008.
Working in collaboration with the Kirklees Metropolitan Council, he helped to finance and create the Galpharm Stadium in Huddersfield, the first ever 25,000 all-seater soccer and rugby stadium in the world. Since selling Galpharm International Graham has established and acquired a number of companies that have collectively generated over £30m in sales over the past two years.
Professor Graham Leslie said: "I am tremendously honoured to be recognised in this way. The University of Huddersfield is an inspiring, innovative university of international renown that attracts students from over 130 countries and has seen a 10% increase in applications when other universities are seeing a decline. You just need to look at the number of new buildings being erected on the campus to see how it is growing. I am delighted to have the opportunity to use my business experience and expertise to support the University in creating new companies and in so doing to give a real boost to the local and regional economy."