Elisa's jewellery is her best-selling business line
Fri, 11 Jan 2013 15:22:00 GMT
New business gives graduate financial and artistic independence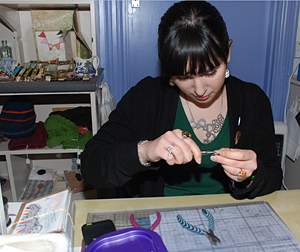 NOT only is University of Huddersfield graduate Elisa Etemad (pictured) a highly original designer – who uses textile skills to produce unique jewellery – but she was determined to create her own kind of business, one that would give her financial as well as artistic independence.
"I realised I wanted to pursue my jewellery full time," says Elisa, aged 24, "but I didn't want to work for somebody else and have them take credit for my designs!"
The answer was to launch a retail outlet where she could sell examples of her own work plus that of dozens of other designers and artists working in a wide variety of fields.
The business is now up-and-running. Named Crafty Praxis, it is based among the Victorian splendours of Huddersfield's Byram Arcade. Although Elisa's jewellery is the best-selling line in the shop, she also has ceramics, artwork and fine-art photography plus other art and craft work.
‌"I wanted to be able to stand on my own two feet and try and make it on my own," said Elisa. "But I realised I could not make a living from just selling my own jewellery and I thought best thing to do would be to try and support other creative people. I have now got work from 64 suppliers in the shop."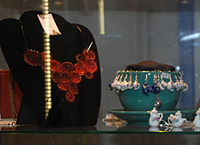 But although she was bent on combining creativity with commerce, Elisa needed expert help and guidance before launching Crafty Praxis. She got it from the University of Huddersfield's Enterprise Development Team, which provides mentoring and financial assistance to students and recent graduates who want to go it alone – The University of Huddersfield recently won the award of the Entrepreneurial University of the Year for 2012.
‌During the closing stages of her degree in textile crafts, Elisa sought the help of the team and after passing a demanding selection process she was awarded £2,400 as an activation grant. It was enough to pay for a year's rent on her shop, so that she could spend her own start-up capital on renovation.
‌Elisa, who is from Stoke-on-Trent, first began to display creative skills in childhood. It would eventually lead her to creating her unique range of jewellery created using techniques such as crochet.
‌"In college I wanted to buy a lot more jewellery than I could afford, so I started to make really simple things," she explained. "And when I started my textile crafts degree at the University of Huddersfield I thought I would use my new knowledge to make textile jewellery."
‌She is passionate about the Byram Arcade, where Crafty Praxis is based alongside the long-established Blue Rooms Café (as seen pictured).
"When I have got enough money I would like to move into a larger unit but probably in the same arcade because I just think that it is a fantastic place that ought to be discovered by more people in the town," said Elisa.