'Egg freezing' – new research underway
Fri, 03 May 2013 15:24:00 BST
Huddersfield professor to evaluate the awareness of fertility issues among young women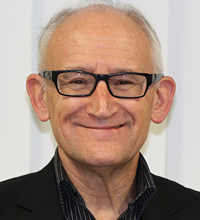 HUNDREDS of female students at the University of Huddersfield have taken part in a web-based research project which will help increase awareness of fertility issues and discover attitudes among young women towards the relatively new technique of egg freezing as a means of deferring childbirth.
Eric Blyth, who is Professor of Social Work at the University of Huddersfield and a leading authority on issues surrounding fertility and reproductive technology, has devised a research project named "Freezing the biological clock" with Dr Vanessa Hinchcliffe of Leeds Metropolitan University. Every female student at the University of Huddersfield has been invited to complete and return an e-questionnaire.
The purpose of the study is "to find out young women's levels of knowledge of fertility, age-related fertility decline and options for fertility preservation and their attitudes towards freezing their eggs (oocytes) for non-medical reasons".
More than three hundred students completed the questionnaire prior to so far, although Professor Blyth is hoping that more students will complete the survey before it concludes on 5 May. Participation in the survey is entirely voluntary and anonymity is guaranteed. Professor Blyth and Dr Hinchcliffe will analyse the responses and present their findings in a journal article.
Professor Eric Blyth [pictured] talks in the video below about his new research project investigating young women's perceptions and knowledge of fertility, age-related fertility-decline and fertility preservation options and their attitudes towards oocyte cryopreservation - egg freezing - for non-medical reasons.
Ooctye cryopreservation
Egg-freezing – technically known as ooctye cryopreservation – first gained acceptance as a technique in the late 1980s, initially as means of fertility preservation for women whose fertility was threatened by cancer treatment. More recently, however, egg freezing has gained attention as an option for women who – for reasons of education and career – wish to delay childbirth.
Egg freezing is becoming commercially lucrative in the USA and in parts of the world such as Singapore it is being regarded as a potential answer to the problem of birth rates that have fallen well below population replacement level.
However, Professor Blyth warns that some entrepreneurs who are promoting egg freezing services may not be providing young women with the information they need to make an informed decision.
Now he aims to appraise the attitudes and the levels of knowledge among a sample of UK university students.
The other dimension to the questionnaire is to discover levels of knowledge about female fertility, and age-related fertility decline.
"Women's 'biological clock' doesn't take account of the fact that women are spending longer in education and establishing their careers before they have children," he said.
"It is unlikely that young women are well informed about fertility problems when the emphasis in sex education at schools is very much on the avoidance of pregnancy," added Professor Blyth.
"Young people then enter adulthood with few knowing that one-in-seven of them will actually experience difficulty having children. And the UK is not alone in this. Generally speaking, education on fertility difficulties for young people is very poor."