Dr Townsley wins Jury Press Award for Till Rolls
Tue, 09 Apr 2013 11:48:00 BST
More success rolls out for University of Huddersfield lecturer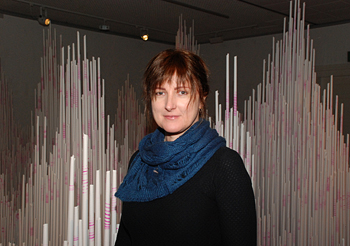 AN extraordinary artwork by a University of Huddersfield lecturer has been selected for an award at one of the world's most prestigious exhibitions – the Arte Laguna Prize, which is held annually in Venice.
Dr Jill Townsley is creator of Till Rolls (pictured right with the exhibit), a painstakingly assembled sculptural installation consisting of hundreds of paper till rolls, extruded to different heights so that they resemble a strange cityscape. It can currently be seen – alongside other intriguing works by the artist – in an exhibition at Huddersfield Art Gallery. It has also been exhibited in the USA, where it won praise from critics.
After entering the Seventh Arte Laguna Prize, Dr Townsley was invited to install a version of Till Rolls at the vast and historic Venice Arsenale, alongside works from hundreds of artists around the globe. And on the opening night of the 2013 edition of the event, she learned that the work had been chosen as a winner of the Jury Press Award. She was one of two entrants out of 110 finalists who had been selected by a panel of eight leading Italian arts journalists.
"I was delighted!" said Dr Townsley. "The opening night was a phenomenal event, attended by about 4, 000 people. And one of the best things was that there were artists from all over the world there and we were able to socialise after the opening ceremony".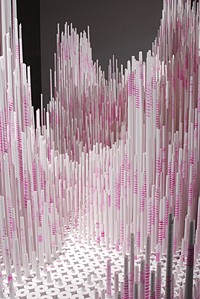 But her joy at receiving the award was mingled with relief that her artwork was displayed in time. For installing Till Rolls is no simple matter. The version on display in Huddersfield took several days to create and required the assistance of some 40 volunteers who unwrapped and reshaped thousand of paper rolls.
"It was hard work but quite moorish and required a lot of concentration," said Dr Townsley, adding grateful thanks to all of her helpers and collaborators, many of whom write about the experience in a special display the entrance to the exhibition at Huddersfield Art Gallery.
Click here to view a series of videos in which Dr Townsley explains the work which went in to creating the five individual pieces of artwork in the 'Sisyphus' exhibition.
They worked to precise measurements and graphs created in advance by Dr Townsley, who enlisted the expertise of University of Huddersfield lecturer Dr Ertu Unver, who instructed her in the use of 3D modelling software.
The version of Till Rolls installed at the Venice Arsenale occupies four square metres of floor space and is therefore half the size of the Huddersfield Art Gallery exhibit. But it still meant that a palette of 4,900 till rolls had to be shipped to Venice – the rolls available in Italy do not have suitable markings and are considerably more expensive, even after shipping costs. And once again, assistance was needed.
"I worked with the curator of the exhibition and she found students and individuals to help out," said Dr Townsley. Ideally she needed between five or six days to install the work, but although the till rolls from the UK had been shipped out in time, there was a delay in their reaching the Venice Arsenale.
The upshot was that the Arte Laguna version of Till Rolls had to be erected in just two full days. It was touch and go whether it would be ready in time, but ten minutes before Dr Townsley had to catch a boat to take her the airport, the work was installed (see the full installation below).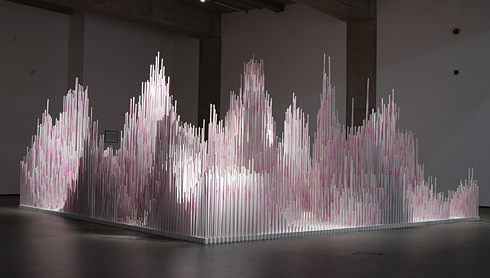 She flew back to the University of Huddersfield - where she is senior lecturer and course leader in contemporary art and illustration - for three days' teaching duties, but returned to Venice for the Arte Laguna opening and was present to hear that she was a prize winner.
The award at a prestige Italian exhibition means that Till Rolls has won global acclaim. It was one of the works that impressed American art critics when Jill Townsley had her first solo show in the USA during 2012.
Now she has been told that the Washington gallery which displayed her work plans to reinstall a version of Till Rolls. Meanwhile, her exhibition entitled Sisyphus – featuring works that explore the effects of labour and repetition – continues at Huddersfield Art Gallery until Saturday, 13 April.