Double Diamond!
Wed, 22 Feb 2012 09:59:00 GMT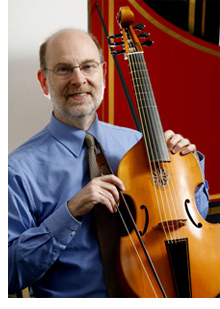 Music professor celebrates the two ages of Elizabeth
THE reigns of two Queen Elizabeths were united at a special concert devised and directed by a University Huddersfield professor who is a leading researcher and performer of early music.
And the event gave Professor John Bryan the opportunity to celebrate a diamond jubilee of his own.
He was born in 1952, the year that Queen Elizabeth II came to the throne, so the concert helped him to mark own 60th birthday as well as forming part of the University's series of Queen's Diamond Jubilee Events.
Professor Bryan specialises in playing the viol, a stringed instrument that was highly prized during the reign of Queen Elizabeth I, who was on the throne from 1558 to 1603. He is a member of the Rose Consort of Viols, one of the leading ensembles in the field, and it was the centrepiece of the Diamond Jubilee Concert which took place at the University's St Paul's Hall.
The programme consisted of works by several of the leading composers who were active during the first Elizabethan age. They included the Englishmen Thomas Tallis, William Byrd, Clement Woodcock and Anthony Holborne, plus Italian musicians who gained popularity in England, such as Vincenzo Ruffo and Alfonso Ferrabosco.
The five-strong Rose Consort – which performs on different sizes of viols, from treble to bass – was joined by the lute player Jacob Heringman plus student singers who are members of the University of Huddersfield Chamber Choir – Andrew McAllister, Iain Armstrong, Tom Kowalski, Sam Morton and Patricia Jackisch and Rebekah Wheeler, who also sang solo numbers with the Consort, including "Eliza is the fairest queen".
Professor Bryan has been awarded £286,596 by the Arts and Humanities Research Council for a five-year project to rediscover how the viol was constructed and how it was played and heard in Tudor England.