Doctoral landmark
Wed, 28 Nov 2012 12:48:00 GMT
Professor reaches his half century of PhD supervisions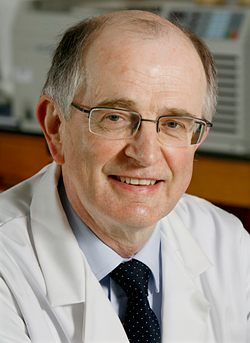 PROFESSOR Mike Page, of the University of Huddersfield, has reached a major landmark – his half century of successful PhD supervisions.
It means that 50 former students with doctorates and important scientific projects to their names have gone on to make their mark in industry, academia and research. Some of Professor Page's earliest PhD students are reaching retirement age. Others are freshly launched on their careers.
"It has been so rewarding, supervising PhDs – one of the things that keeps me going! That's why I am still doing it now," said Professor Page, who currently has four students embarked on new doctoral projects.
Professor Page is a chemist, a former Dean of Applied Sciences and Deputy Vice-Chancellor of the University of Huddersfield. He currently heads the research group named IPOS (Innovative Physical and Organic Solutions), which works closely with industry and is based in cutting-edge facilities named the Page Laboratories.
He came to Huddersfield as a lecturer in 1972 and began PhD supervision soon after. His first successful candidate passed in 1978 and there has been at least one – often several – almost every year since. His 50 supervisions is a record at the University of Huddersfield and one of the highest in the sector as a whole.
Over the years Professor Page has developed a simple formula; he identifies a fruitful area for research, seeks funding and recruits a suitable postgraduate to work with him on the project. In the early stages the PhD researcher will be closely supervised, but gradually the student begins to develop greater independence, devising their own experiments. Eventually, the research and the findings are written up in a thesis.
The 50 PhD projects so far have covered a wide range of subjects, including a good deal of early work on beta-lactams and antibiotics such as penicillin – a theme that has continued.
Another major theme has been biochemical research, leading to an understanding of how enzymes – nature's catalysts – work and then finding ways to stop them from working, which is how many drugs are effective. Professor Page has also used enzymes for making new chemicals, which has led to patents.
Professor Mike Page is pictured below with his collegues from IPOS (Innovative Physical Organic Solutions research group) [l-r] Dr Nick Powles, Dr Matt Stirling and Professor John Atherton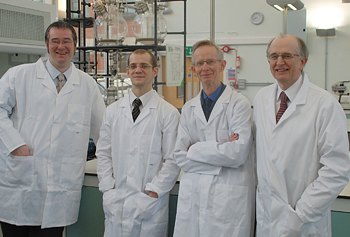 Recently there has been an emphasis on the properties of ammonia, which not only has enormous potential as an energy efficient solvent for industry, but might also help to understand the nature of life and evolution. One of Professor Page's current PhD students is examining whether life processes can exist in liquid ammonia.
"PhD research is a training programme to get students to be critical thinkers who are sceptical about the observations that they make," said Professor Page. "When they accumulate all their results and observations, they have got a story to tell, so they write it up in terms of experiments that they did and the results and the discussions."
Professor Andrew Ball, who is the University of Huddersfield's Pro Vice-Chancellor for Research Enterprise, paid tribute to Professor Page's track record: "High-quality, high-volume PhD supervision is a critical indicator for any research-intensive university. It's an activity as time consuming as it is rewarding. I take my hat off to Mike for achieving the score of 50 not out!"