Contemporary Art's transdisciplinary journey
Sun, 01 Jul 2012 15:02:00 BST
Professor Alex Coles launches his 'Transdisciplinary Studio' in Basel, London and Huddersfield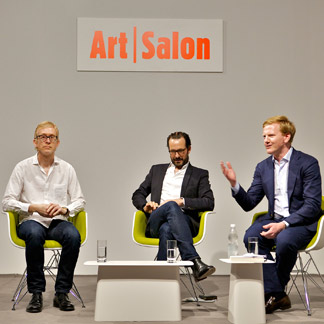 Pictured at the Basel launch of Transdisciplinary Studio are (l-r) Martin Boyce, Konstantin Grcic and the University's Professor Alex Coles.
PROFESSOR Alex Coles (pictured below), of the University of Huddersfield, has embarked on an ambitious series of books which will explore and explain one of the most important developments in contemporary art – the fact that 21st century artists move freely between disciplines.
And they are often part of large, studio-based teams than can be almost industrial in their scale and methods of production.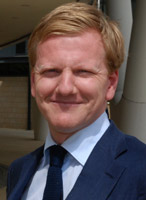 Trained as an art historian, the shape of Professor Coles's research was formed when he realised that more and more contemporary artists were using languages and processes derived from design and architecture. They are therefore transdisciplinary artists and it is as Professor of Transdisciplinary Studies that Alex Coles has taken up his post at the University of Huddersfield.
Recently published is the first volume in what will be a sequence of books under the series title 'The Transdisciplinary Studio'.
Volume one focuses on Olafur Eliasson, Jorge Pardo, Konstantin Grcic and Åbäke and the research process saw Professor Coles spending as long as three months in the studios of the four artists, who are based in various parts of Europe. It was an anthropological approach, he says.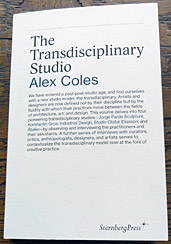 "This participant-observation method, which derives from anthropology, is a key characteristic of transdisciplinary research which usually involves a group rather than just an individual," he says. "By being there and writing about what the artists do, I temporarily became a part of the studio team."
Most contemporary art that is of international standing is made by a studio team which can consist of fabricators, designers, architects, academics and others. In the case of the Berlin-based Olafur Eliasson, for example, the team was at least 50-strong.
"It is almost industrial – not just somebody thinking and drawing."
The first 'Transdisciplinary Studio' volume has been launched at the massive Basel Art Fair and it will also receive a launch at London's Institute of Contemporary Arts and in Huddersfield itself, when Professor Coles delivers his inaugural lecture later in the year.
The series itself is open-ended. "It will probably continue until I retire!" says Professor Coles.
Born in Ellesmere Port, he was drawn to the new interface between art, design and architecture during his postgraduate studies and his previous teaching appointments have included Goldsmiths College in London and the Otis College of Art and Design in Los Angeles.
At the University of Huddersfield, in addition to his research and writing, he will be supervising PhD students and teaching on a new Research Methods Programme, open to postgraduate students and to staff.
The University's School of Arts, Design and Architecture embodies the transdisciplinary philosophy which is at the heart of his research.
"There was a parallel journey that we were both on, and it made sense for me to come here because we were both in at a similar point in our trajectory."