Child welfare services – the global view
Tue, 15 May 2012 12:31:00 BST
Huddersfield researchers join £1 million child protection project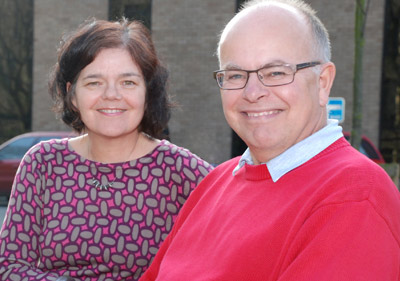 Huddersfield researchers Dr Sue Peckover and Professor Nigel Parton
TWO University of Huddersfield experts have joined a £1 million, multi-national research project which will compare and contrast child welfare services in four countries.
Beginning in September, the four-year programme aims to gain a better understanding of how different countries understand and interpret the best interests of the child and what lessons can be learned from each others' systems.
Academic researchers from Norway, Finland, the USA and the UK are to collaborate on the project, which is funded by the Research Council of Norway. The projects principal investigator is the University of Huddersfield's Dr Sue Peckover and she will be working with colleague Professor Nigel Parton.
In addition to contributing research on UK child welfare, they will also hold meetings with their overseas colleagues. One is likely to be held in Huddersfield.
One goal of the project is to compare the differing child protection philosophies and policies of Nordic countries and of the UK and USA. Levels of welfare provision differ and there are other contrasts.
"For example Nordic countries are probably less likely to take children into care and remove them from parental responsibility," said Dr Peckover.
"In this country and in California there is a much greater tendency for children to be taken into care against the interests of the parent and to go for adoption at an increasingly earlier age.
"However there have been criticisms that Finland and to a lesser extent Norway did not have a good record at protecting children, particularly from sexual abuse, within the family. It has been argued that the UK performs better in this respect."
The involvement of the Huddersfield duo has its origins in an earlier research project which compared child protection systems in ten countries. Professor Parton participated and was co-editor of the 2011 book that resulted. When his Norwegian colleague Dr Marit Skivenes, of Bergen University, decided to embark on a new phase of research, Professor Parton and Dr Peckover – who came to Huddersfield as a Senior Research Fellow in 2005 – were invited to take part, along with colleagues from the universities of Tampere in Finland and California, Berkeley, USA.
"The value of this sort of comparative work is that you can learn a lot about you home country," said Professor Parton of the Centre for Applied Childhood Studies at the University of Huddersfield.
"The simple process of making comparisons shows up your own situation in much greater relief than if you are just embedded in it."