Children's Chancellor
Mon, 06 Feb 2012 15:39:00 GMT
Jim to head Kirklees Children's Uni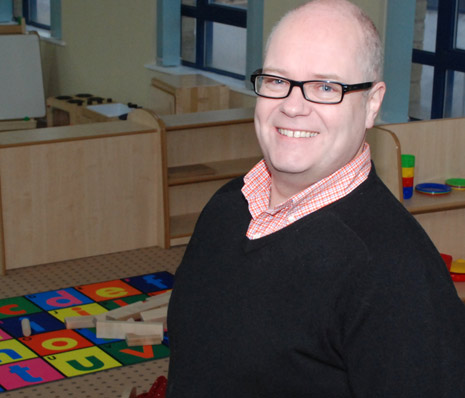 Jim Reid (pictured), a lecturer in Childhood Studies, has recently become a chancellor of the Kirklees Children's University.
Through affiliates across the UK, including in Kirklees, the Children's University is a national organisation that provides 7 to 14 year olds with innovative and exciting approaches to learning to enhance their attainment and to develop their aspirations. The current national chancellor is Michael Morpurgo, author of Warhorse, and Jim joins other local chancellors such as Gervase Phinn and Louis de Bernieres in his role.
The Children's University in Kirklees is represented by the Working with Kirklees Success Centres and Jim is working with Jeanette Palmer, the local manager, to develop links between the centres and the University. Childhood Studies students are currently undertaking placements in the centres to provide support to local children, build their confidence, skills and to enhance their academic achievements. As Chancellor, Jim is keen to provide a link between the University and local children and their families.
The community nature of the project is further enhanced since the Kirklees Success Centres are based in sporting locations throughout Kirklees, including Huddersfield Town Football Club, Huddersfield Giants Rugby League Club, Batley Bulldogs Rugby League Club, Dewsbury Rams Rugby League Club and Thongsbridge Tennis Club. Formerly known as 'Playing for Success', the centres provide support for children who would benefit from additional help outside their mainstream school environment.
Says Jim: "The sporting venues provide venues and facilities and both players and coaching staff are involved, helping the children learn in a sporting context. The scheme also enables local sports clubs to reach out to children in the local area. The centres therefore offer a number of benefits to children and to the learning and development of the University's Childhood Studies students."
In addition to developing placements for students Jim has some ceremonial duties including awarding certificates when the children 'graduate' at an official ceremony at the University and he acknowledges: "The effort is all worthwhile to see the smiles and pride on the children's and their family's faces".
Follow this link for more information on the Children's University or to volunteer with the Kirklees Success Centres contact Jeanette Palmer on 01484 234153 or email jeanettesagar@yahoo.co.uk