Chemistry research centre awarded ISO 9001
Thu, 21 Feb 2013 10:29:00 GMT
Huddersfield chemists one of the few UK research centres to achieve the ISO 9001 standard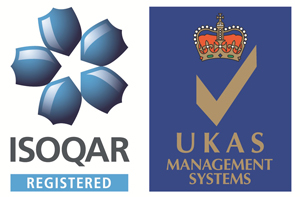 A TEAM of research chemists at the University of Huddersfield which has already carried out work on behalf of a wide range of industrial companies will be able to widen its scope for collaboration now that it has gained an important new accreditation.
The group named IPOS (Innovative Physical Organic Solutions) has been awarded ISO 9001, an international, recognised guarantee of high standards of management and quality control. The centre now joins one of a select few research centres in the UK to achieve the standard.
"It means that we will be able to apply for much larger tenders. For example, if there is an opportunity to carry out testing on behalf of the NHS, it is often a requirement that you need the ISO 9001 accreditation," said Dr Marcus Chadha, who is the IPOS quality manager. He was closely involved with the accreditation process, alongside his colleague Helen Winsor, analytical manager for the 10-strong team.
The ISO 9001 was awarded to IPOS by the United Kingdom Accreditation Service (UKAS) after an exhaustive two-stage audit carried out by a team from the independent certification body ISOQAR.
The inspectors made sure that IPOS business plan was sound and that procedures met the ISO standards. The test was passed with flying colours – the auditors found no deficiencies.
Dr Chadha explains that ISO 9001 is the first in a three-stage process. Two further accreditations will be sought over the next two years. These will include further evaluations of the IPOS laboratory facilities and when they are completed the team will be qualified to carry out analytical testing of medicines, food, environment samples and forensic analysis.
And even when the full range of accreditations are in place, there will be regular audits to make sure that standards remain high and that continuous improvements are being made.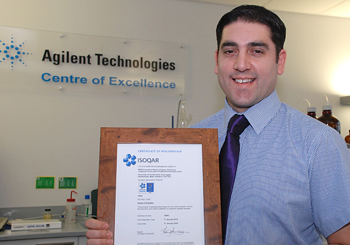 It is very rare for a research group in a Higher Education to achieve ISO 9001 recognition, said Dr Chadha (pictured). He added that although the accreditation would bring new opportunities, the research team was already exceptionally busy, carrying out work on behalf of many companies that include pharmaceutical and fine chemical manufacturers.
IPOS are also closely involved in REACH (the European Union regulation concerning the Registration, Evaluation, Authorisation and restriction of Chemicals) where chemical manufacturing companies are using the expertise of IPOS to evaluate their products.
IPOS is based in a suite of laboratories at the University of Huddersfield that have been designated an Agilent Centre of Excellence. IPOS have also recently been awarded an extension to their current ERDF grant, furthering industrial collaboration by providing free assistance to local SMEs for the next year.