Chancellor welcomes Wilkes pharmacists
Fri, 16 Nov 2012 11:37:00 GMT
Exchange students from Wilkes University meet Sir Patrick Stewart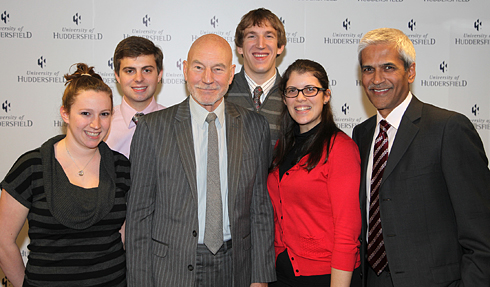 Pictured above (l-r) meeting the Chancellor Professor Sir Patrick Stewart is: Alexandro Pagano, Taylor Bridges, Sir Patrick Stewart, Stephen Kruver, Angela Dalessandro and Dr Mahendra G Patel
PHARMACY students on both sides of the Atlantic are broadening their horizons thanks to a thriving educational exchange programme established by the University of Huddersfield and Wilkes University in Pennsylvania, USA.
As a result of extensive planning and deliberating, unique links have now been established by University of Huddersfield's Senior Lecturer in Pharmacy, Dr Mahendra Patel. For the past two years, select groups of students from both universities have taken part in the exchanges.
Dr Patel, who holds a number of prominent NHS posts as well as being recognised as one of the first Fellows of the National Institute for Health and Clinical Excellence (NICE), was subsequently invited to give a series of lectures at Wilkes University and appointed as their Adjunct Professor in Pharmacy Practice.
Realising the benefit to students in both the USA and the UK in terms of learning about different dimensions of the healthcare and pharmacy systems of the two countries, Dr Patel and Mrs Holt-Macey, Wilkes University's Director of Experiential Program, helped set up the exchange programme. It is now well established with healthy and enthusiastic competition for places.
For example, a group of four students in their final year of the Doctor of Pharmacy degree course at Wilkes has just completed an intensive three-week visit to the UK, centred on the University of Huddersfield. The packed programme comprises of numerous visits to a variety of practice settings operating within the NHS, meeting and engaging with academics from different universities, and also with healthcare practitioners from primary, secondary and community backgrounds.
More than half of the 70+ final-year students who are enrolled on the Wilkes University Doctor of Pharmacy course applied to join the University of Huddersfield's exchange programme, and they underwent a rigorous application and selection process in order to be chosen for one of the four places.
While in the UK, their contribution is formally appraised by Dr Patel – acting as the students' preceptor – and their marks will make up part of their final year elective rotational assessment.
He outlines some of the benefits to the USA pharmacy students: "They have learned from the different teaching methods that we practise within the university and also the value of having interactive sessions through the way we role-play and mimic real-life scenarios between pharmacists, healthcare practitioners (doctors/nurses) and patients.
"They were fascinated by the autonomy of the pharmacist's duties within some hospital settings, and their extensive professional role across all the different types of pharmacy practices compared to America in many ways," added Dr Patel.
"From a primary care and community perspective, the role of the pharmacist was highly appealing, for example, being able to provide flu vaccinations and operating anticoagulation clinics commissioned by the local trusts, in addition to offering medicine-use reviews to help support patients take their medicines better. The students enjoyed how the pharmacist in the UK in many instances is encouraged to engage the patient and empower them in order to help them get the best out of their treatment."
Similarly two groups of Huddersfield MPharm students have also visited Wilkes University and they also have benefited from very fascinating but somewhat different insights, says Dr Patel. The UK students are assigned to a number of pharmacy practices and visited outreach clinics with pharmacists having their own patient lists.
"In my opinion I have found our students who visited the USA all returning with more focus, greater maturity and higher levels of confidence. Importantly, they have also developed a wider depth of knowledge of pharmacy and a clear appreciation of the role of the pharmacist and how it can be complemented and enhanced.
Interestingly, the value of this programme was highlighted through one student's recent application for a Pharmacy Pre-Registration post at Europe's biggest and busiest children's hospital. It was very uplifting to learn that it was commended as one of the best they had ever received – significantly on the back of their USA experience".