Celebrating International Women's Day
Thu, 21 Feb 2013 10:15:00 GMT
Women's Stories: Women's Lives was the title for the IWD – Friday 8 March
‌
‌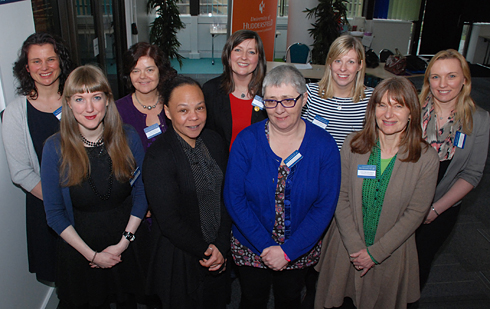 Pictured left to right are the co-organisers of the symposium Dr Abigail Locke Reader in Applied Social Science, Dr Gráinne McMahon Senior Lecturer in Criminology, Dr Sue Peckover Reader in Child and Family Health, Dr Berenice Golding Early Career Researcher, Kate Smith PhD researcher and Lead on Asylum and Migration Practice and Research, Dr Jo Woodiwiss Senior Lecturer in Sociology, Julia Langley PhD researcher, Dr Marilynne N Kirshbaum Reader in Nursing and Kelly Lockwood PhD researcher.
INTERNATIONAL Women's Day (IWD 2013) was marked at the University of Huddersfield with a new event that could become a tradition in its own right.
A team of feminist researchers based at the University decided that IWD 2013 was an ideal opportunity to launch a symposium showcasing the work of students and academic staff, and encouraging debate on feminist issues.
Entitled Women's Stories: Women's Lives, the symposium took place on Friday 8 March – a date marked around the world as this year's International Women's Day, a global tradition that originated in the early twentieth century.
In 2012, a Feminist Research Group was established at the University of Huddersfield, and a sub-group decided to organise the symposium.
"We want to showcase the work that going on here – feminist research, looking at women's lives," said Kate Smith, a PhD researcher based at the University's Centre for Applied Childhood Studies. She added that the event involved staff and students working in tandem.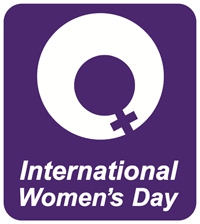 Morning and afternoon sessions featured papers dealing with topics that included domestic abuse, the experience of women refugees, narratives of women in prison plus aspects of mothering and relationships.
The symposium ended with a roundtable discussion entitled Women researching women.
The event attracted interest from universities around the country, said co-organiser Kelly Lockwood – who is also completing PhD research – but in addition to academics, people working in fields such as social services also attended.
The intention is that the recent symposium will be the first in a regular series of events – held maybe three times a year – to feature feminist research and discussion.