Celebrated actor receives his honorary award
Tue, 16 Jul 2013 16:41:00 BST
Robert Powell becomes an honorary doctor of the University of Huddersfield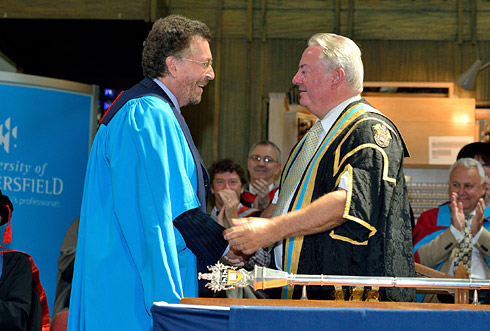 Actor Robert Powell (left) receiving his Honorary Doctorate of the University from the University's Vice-Chancellor, Professor Bob Cryan.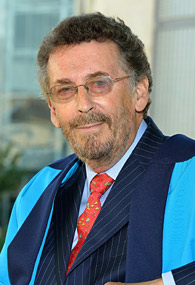 ONE of Britain's favourite actors – whose roles have ranged from Jesus Christ to stiff-upper-lip hero Richard Hannay – received an honorary award today from the University of Huddersfield.
Robert Powell, whose early-career roles included a cameo part in the 1969 classic The Italian Job, found fame in the 1977 TV series Jesus of Nazareth. He starred in the 1978 remake of The Thirty Nine Steps and reprised the role of its central character Richard Hannay in a 1980s TV series. Alongside Jasper Carrott, he was a bungling sleuth in the 1990s sitcom The Detectives. Recent TV roles have included a six-year stint in BBC 1's Holby City.
Robert Powell has one of the most familiar voices on TV and radio, for his readings and voice-overs, and he has also given many live theatre performances. He has been a special guest of Huddersfield Philharmonic Orchestra, as the narrator in Peter and the Wolf and the compere of Town Hall concerts featuring film music.
‌Born in Salford and educated at Manchester Grammar School, Robert Powell has many links with the art and theatre of the North of England. His early theatre experiences included a season with Alan Ayckbourn's company in Scarborough and at the Bolton Octagon Theatre.
He received an Honorary Doctorate of the University of Huddersfield from the Vice-Chancellor, Professor Bob Cryan.
The oration prior to the award was delivered by the actor's close friend, author Alan Garner (pictured right with Robert Powell at the Awards Ceremony), who received an honorary award from the University in 2012 and offered this sentiment about his friend.
"In step with his skills and perfectionism on stage, television and film is Robert's remarkable power as a reader of the written word. Shorn of visual interpretation, we hear the true quality of an actor's chief instrument: the voice: the subtlety, the cadence, the timing, the focus and the intelligence. No one surpasses him in this art.
"Here is a full, creative and a generous life and what Robert does not make public is his sustained and energetic work for charities, especially those to do with the young."