Call the Midwives – 2012-style
Thu, 29 Mar 2012 16:48:00 BST
Royal College of Midwives General Secretary visits University and talks of the progress in her profession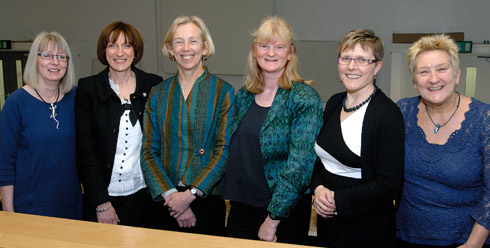 Pictured (l-r) from the RCM Jacqui Hall, Gill Adgie and General Secretary Professor Cathy Warwick with Huddersfield lecturers Dr Joyce Marshall, HoD Dr Mari Phillips and Chris Howarth.
MIDWIFERY is a job that has come a long way from its caring but sometimes chaotic depiction in the TV ratings hit "Call the Midwife", set in the early years of the NHS. Nowadays all new midwives must study the subject to degree level and when they leave university and enter the profession they continue to learn demanding new clinical skills.
The General Secretary of the Royal College of Midwives, Professor Cathy Warwick, confesses that she and all her colleagues enjoyed BBC 1's 'Call the Midwife'. It showed the compassionate side of the profession, something that can not necessarily be taught, she says.
But she is also a staunch advocate of the transformation of midwifery into an all-graduate profession. And she visited the University of Huddersfield to meet current students, to give a presentation about the wider aspects of their future occupation and to field questions from soon-to-qualify midwives.

Professor Warwick (pictured right), who qualified as a midwife in 1976, relishes the chance to get out and about and meet students.
"It is very important that I don't live in an ivory tower," she said. "I have to talk to politicians, government officials and senior NHS managers on a regular basis so I need to understand what life is like both for qualified midwives out there working in services and for our student midwives in the universities. Once I understand the issues and their worries then I can really represent their views."
She is in no doubt that the transition to an all-graduate profession is a wise move.
"It is really important to acknowledge that the role of the midwife requires the level of thinking, decision-making and analysis that you get through the university education. So making midwifery a degree course recognises that this is a profession that demands much more than just hands-on clinical skills."
Professor Warwick does believe it is important that students start their courses with an inherent sense of compassion.
"They must have a fundamental respect for women and I don't think you can completely teach that, so you really do have to select students for midwifery very carefully.
"But in the course of their studies they can learn about psychology, communication and enhance their inherent skills. So I think that compassion can be developed."
Although the fundamental definition of a midwife remains the same, new layers of skills are being added, says Prof Warwick.
"Midwives now do suturing after childbirth and a lot of them are doing examination of the newborn baby something that used to be the role of the paediatrician. And in a few cases – very few at the moment – midwives are taking on assisted-deliveries, which is very much the province of the medical team."
The vast majority – well over 80 per cent – of births take place in hospital, but Professor Warwick foresees a significant change.
"In the next few years, as a result of health policy, we will see an increase in what we call 'births out of hospital'.
"We have just carried out a major research project which demonstrated that for women who don't have major risk factors, giving birth at home or in small midwifery units is very positive. Midwives will have to be prepared for these changes."
Dr Mari Phillips, Head of Division of Maternal and Child Health and Lead Midwife for Education welcomed the visit of Professor Warwick: "It was a valuable opportunity for our midwifery students, currently 131 students across all year groups, to be able to meet and question such an inspirational midwifery leader".
The visit was arranged by Dr Joyce Marshall, who is one of the midwifery academic team.