Big Eorl and the student entrepreneurs
Wed, 16 Jan 2013 10:49:00 GMT
Student entrepreneurs launch their first healthy fast-food outlet in Huddersfield ...with the help of Big Eorl!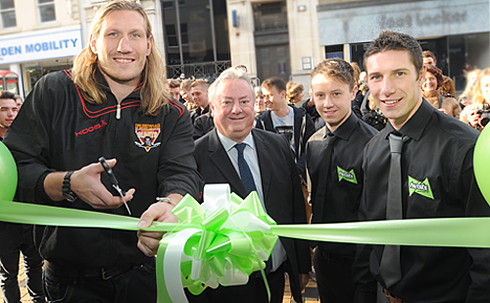 Left to right: Special guest Eorl Crabtree from Huddersfield Giants is pictured at the grand opening of Twists Pasta Bar with the University of Huddersfield's Vice-Chanchellor Professor Bob Cryan and student entrepreneurs Jeff Postlethwaite and Adam Thompson
Following their success in being offered £50,000 by food industry entrepreneur Richard Reed, in his BBC 3 series Be Your Own Boss, student entrepreneurs Jeff Postlethwaite and Adam Thompson have now opened their first Twists Pasta Bar on New Street in Huddersfield's town centre.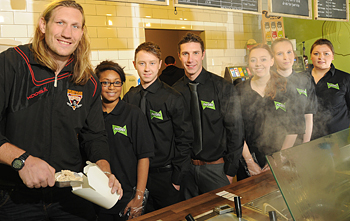 It was in September 2012 when current University of Huddersfield students Jeff Postlethwaite and Adam Thompson were seen taking part in BBC 3's Be Your Own Boss impressing Innocent Smoothies co-founder Richard Reed with their drive and ambition.
‌He told them that he would invest £50,000 in their idea for a chain of healthy fast food outlets, specialising in pots of pasta with a range of sauces. But they had to establish a first outlet and after hard work acquiring, designing and fitting out their first Twists Pasta Bar in Huddersfield, the grand opening took place on the 12th January.
In attendance were Huddersfield Giants star Eorl Crabtree plus the Vice-Chancellor of the University of Huddersfield, Professor Bob Cryan, who has personally mentored Jeff and Adam.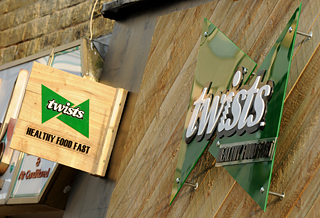 Now Twists Pasta Bar No. 1 has been launched, the cash from Richard Reed, will be made available to help the duo open new outlets over the next few months. The entrepreneurial students are eyeing cities such as Sheffield, Leeds and Manchester.
The University of Huddersfield recently won the award of the Entrepreneurial University of the Year for 2012.