Behaviour Changing Syringe reaches shortlist
Mon, 19 Aug 2013 15:10:00 BST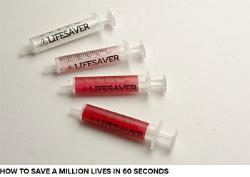 ‌Dr David Swann, Reader in Design with the School of Art, Design and Architecture, has been shortlisted for the People's Choice Award for INDEX: Design to Improve Life Awards. Anyone can vote for this project and help us to gain another prestigious award for the University of Huddersfield.
A jury of designers, academics and business people have chosen this shortlist of the leading design-based solutions to the world's biggest problems. Now it's time to decide which of them you think will benefit humanity the most. Dr David Swann's Behaviour Changing Syringe project has also been selected for CNN'S People's Choice Vote: CNN Click the 'Super Syringe' button to vote.
Dr David Swann's project 'ABCs: A Behaviour Changing Syringe' is a prototype transformative syringe designed to deter non-sterile syringe re-use in India.
The project will involve looking at the affordability, accessibility of technology, any cultural resistance and human inertia, as well as production and labour costs.
These prestigious global awards inspire, educate and engage people in using design to improve life skills to develop sustainable solutions to global and local challenges.
Created by Denmark in 2002, INDEX: Design to Improve Life® is in sync with the values and principles that made Danish design widely renowned in the last century, focusing on humanism, social understanding and democratic thinking.
To find out more about INDEX visit Design to Improve Life