Barcode design wins global competition
Tue, 18 Dec 2012 13:29:00 GMT
Lecturer Brent tops the International City Brand Design Competition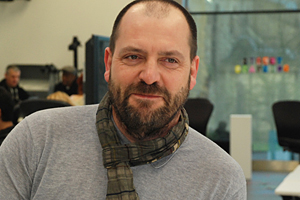 UNIVERSITY of Huddersfield senior design lecturer Brent Hardy-Smith (pictured) used ingenious techniques to create an intriguing image of the quintessential modern high-rise city. And it has earned him a major award, against global competition.
The contest – named the International City Brand Design Competition – was initiated by the Korean Branding Association and organised by the New York-based International Council of Graphic Design Associations. It was linked to an annual design exhibition which takes place annually at Youngdong University, in South Korea (which is pictured below).‌
‌‌Brent Hardy-Smith – who has worked in both the commercial and the academic sectors – has exhibited poster art at Youngdong in previous years. As a result, he was invited to submit an entry to the new competition.
"It was a very open brief! Just the title, 'City Brand Design'," said Brent, whose roles at the University of Huddersfield include Course Leader for the MA in International Graphic Design.
"I started off with the actual word 'city'. I used a typeface called Blox and just repeated the word 'city' in a grid pattern, and digitally grabbed it and raised the form of the city digitally from each character."
‌The resulting design (pictured right) depicts a cityscape of skyscrapers, but an additional visual and thematic twist is that those tall, thin buildings also represent a barcode.
"The idea was that the image was a city brand could be scanned, like a barcode."
He submitted his design and was later informed that his entry had been selected as best in the competition, which had received entries from around the world.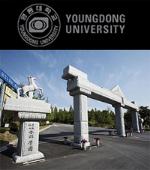 "It was a really high standard. The entrants were all internationally-renowned people," said Brent, who has yet to visit Korea, although he expresses admiration for the way in which the country fosters collaboration and breaks down cultural barriers with visual communication.
Brent has a track record himself in this area. For example, he recently worked on an on-line project run by Australia's Omnium Research Group that sought to break down cultural barriers between Chinese and Australian students.