Bangladesh's Green University becomes partner
Mon, 25 Mar 2013 16:23:00 GMT
Memorandum of Understanding signed with Green University of Bangladesh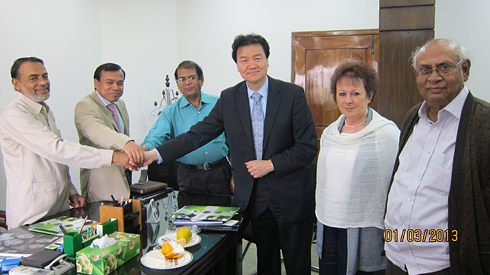 Pictured above at the signing of the Memorandum of Understanding between the Green University of Bangladesh and the University of Huddersfield (left to right): Vice-Chancellor (Acting) of the Green University of Bangladesh Md. Shahid Ullah, Dean of the Faculty of Science Dr. Md. Saifur Rahman, Dean of the Faculty of Law Dr. M Robiul Hossain, University of Huddersfield's International Collaboration Manager Tony Wong with Head of International Sue Staples and Professor of English Dr. Md. Ahsanul Haque.
THE University of Huddersfield has forged a pioneering partnership with one of the most go-ahead universities in Bangladesh.
A Memorandum of Understanding (MoU) has been signed with Green University of Bangladesh, based in the capital city of Dhaka.
Scheduled to last for five years, the agreement will result in student exchanges, visits by academic staff and shared research in fields such as social sciences, law, computing, electronic and electrical engineering and English, which are among the principal strengths at Green University, which was founded in 2003.
The partnership will also provide excellent progression opportunities for Green University students to further their studies at Huddersfield.
The MoU was signed during a ceremony at the Bangladeshi university. Representing the University of Huddersfield were the Head of the International Office, Sue Staples – who had made an earlier visit to Bangladesh to lay foundations for the agreement – and Huddersfield's International Partnerships Manager Tony Wong.

Among the senior Green University figures present at the signing was Acting Vice-Chancellor Mohammad Shahid Ullah. Groundwork for the event had been laid by the Bangladeshi university's Associate Professor of English, Islam Mohammad Hashanat.
Now that the MoU has been signed, work begins on the details of collaboration between the two universities, said Tony Wong.
"We were delighted that the formal MoU was signed to begin what should be an excellent collaboration," he added.