Advances in equality
Mon, 19 Mar 2012 16:33:00 GMT
University researcher's new book probes of levels of tolerance for people of different sexuality
A NEW book co-authored by a University of Huddersfield researcher examines current UK and global attitudes towards gays, lesbians, bisexuals and transgender people. It analyses recent legislation aimed at ensuring equal rights and asks what more needs to be done.
The book - entitled 'Sexuality, Equality and Diversity' - is the end product of a three-year, £230,767 research project funded by the Economic and Social Sciences Research Council and conducted by Dr Surya Monro (pictured), based at the University of Huddersfield's School of Human and Health Sciences, in tandem with Professor Diane Richardson of Newcastle University
"We were interested in finding out how things are moving on, because there has been a lot of recent legislation supporting equality issues generally – covering faith, race and age as well as sexuality," said Dr Monro.
Recent UK legislation has included the Equalities Act of 2010 and 2004's Civil Partnership Act.
The authors conducted most of their research in the UK, including Northern Ireland, but also looked at such diverse countries as South Africa, Nepal and the USA so that they could provide an international dimension.
The project has left Dr Monro fairly encouraged about progress towards equality and tolerance.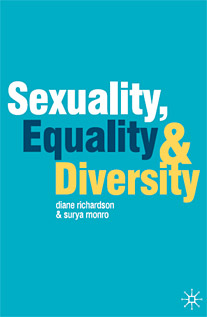 "It is an optimistic picture in the sense that there is much more open discussion now around the rights of people who have different sexual orientations and gender identities," she said.
"There is supportive legislation in a number of countries, but there are also still a large number of countries where state-sponsored human rights abuses against lesbian, gay bisexual and transgender people are commonplace," she added.
In the UK, said Dr Monro, there had been big cultural shifts towards more general acceptance of diversity.
"Now there is a need to consolidate after recent legislation and it is good to see that the Coalition is broadly supportive of equality issues," she said.
Now Dr Monro is planning to co-organise a conference which will examine the effect that austerity and public spending cuts are having on issues of sexuality and equality. There are sound arguments against cutbacks in these fields, she claims.
"There is a business case, because gays, lesbians, bisexuals and transgender people contribute to the economy through taxes and so we want them to be as supported as much as possible, so that they are not affected by things such as hate crime.
"And there is also the social justice case," she added. "There is no reason why people with different sexualities and gender identities should not have as good an opportunity as everyone else to make a contribution to society."